Inside Frank Ocean's Mutations Photography Book From Homer
The 48-page booklet features pictures taken by Ocean himself—and plenty of Homer jewelry.
---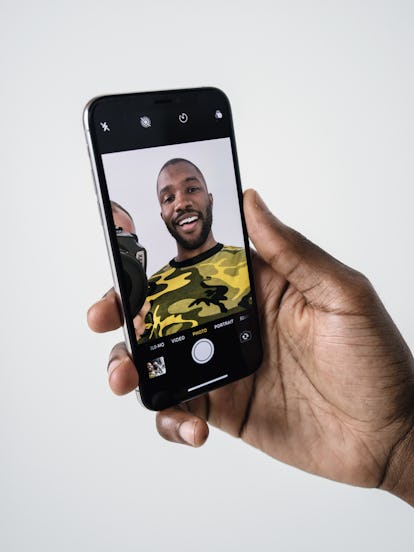 Photography by Tim Walker
We may receive a portion of sales if you purchase a product through a link in this article.
Less than two months after performing a much talked-about set at Coachella, the enigmatic artist Frank Ocean has released his latest project: a book of photography.
Titled Mutations, the 48-page booklet is being published and sold through the musician's independent luxury company, Homer, and features original photography taken by Ocean himself. In fact, the brand describes Mutations as a "retrospective of artwork from October 19 to December 22, 2022"—making the sticker price of $75 feel all the more worth it. Who wouldn't want to own an OG Frank Ocean piece, especially since it's "offset printed on tissue-weight paper," as Homer states on its website? Sounds intriguing.
Ocean launched Homer in 2021, with a debut collection that included printed silk scarves and blingy-meets-DIY fine jewelry cast in 18-karat gold or hand-painted enamel. The artist designed and photographed the first Homer catalog himself, which put chunky pieces done in diamond-studded barbell shapes and neon beaded chains on brilliant display. That aesthetic motif continues in Mutations, which features images of Frank Ocean's friends and family draped in Homer jewelry, their portraits set against blurred multicolored backgrounds not unlike aura photography.
Of course, the lime-green mask of a child's braces-studded face makes a comeback in Mutations, but no word on whether or not Homer's $25,000 penis ring gets a page in the book.
Homer's products are designed in New York and made in Italy before returning to Manhattan's Chinatown, where the label has opened a brick-and-mortar jewelry shop on Bowery.
"Hand on my heart, this project has kept my mind moving and my imagination turning throughout it all," Ocean wrote in an Instagram story after launching Homer in 2021. "All of my work now is dedicated to my family. Everything. My hope is to make things that last, that are hard to destroy, set it in stone."