Gaetano Pesce on the Transgressive Nature of Interior Design
The 83-year-old artist's first solo show in Los Angeles examines how furniture can become a vessel for cultural commentary.
---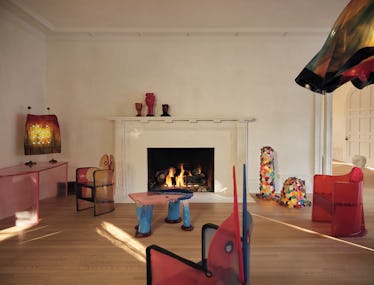 Photograph by Rich Stapleton, courtesy of the artist and The Future Perfect
Gaetano Pesce, the 83-year-old Italian artist, designer, and architect, compares making his famed objects—all gloop and drips, primarily rendered in splashy resin—to cookery. "My workshop looks like what happens in the kitchen when we prepare a cake," he tells W. "We have the components, there is a recipe. It is maybe interesting to see, but it is nothing more than what we do while cooking and baking."
Pesce (whom over the course of our interview, also likened his process to making a sauce), still goes to his workshop in the Brooklyn Navy Yards every day. He is always innovating, looking for new materials (his heroes are Renaissance artists, who "were never accepting boundaries in what they were doing… I am convinced that art or the expression has no separation."). His career has spanned everything from those famed resin works to furniture to creating the first-ever open office to faking his own death. And some of the most important objects—which he likens to his children—from the course of his over 50 years in design are now on display at the Future Perfect's Los Angeles location, in a 1916 Hollywood mansion that once belonged to Samuel Goldwyn. The exhibition, which runs until March 31st, is called Dear Future, and it is Pesce's first solo show in Los Angeles.
"What I try to do with my work is to provoke people to discover what makes them alive," Pesce said. "In a moment when the world is full of problems, it is good to show that something is positive and optimistic—something that can talk about the fact that life is, in the end, extraordinary. My work is not serious in a certain way, but it makes people, in another certain way, happy."
Dear Future feels happy. Vessels rest on legs that can miraculously jiggle; lamps are covered in a rainbow of candy-colored rocks; a resin chandelier folds in on itself like draped fabric; there are pieces from his "Nobody's Perfect" series with intentional, blooming flaws. It's all playful, inviting, edible.
But the beauty and inherent friendliness of Pesce's objects (bright colors, jelly legs, smiley faces, goopiness), can belie the transgression in his work. His pieces have tackled religion (a table representing the resurrection of Jesus Christ), the environment (his water-inspired pieces), and the purpose of the function of design itself (in her excellent survey of Pesce's work, Out in the World with Gaetano Pesce, Laura Bannister writes that Pesce interrogates "the potentiality of the material… toying with the form and functionality of chairs themselves. Is a chair still a chair if it cannot safely hold a person? Or if it folds in on itself?").
"I hope the show in Los Angeles is able to make people think that today is time for design to become a kind of art, to become not a second-class expression, but an expression that is able to talk about politics, is able to talk about religion, to talk about personal problems," Pesce tells me during a phone call from his workshop. "Is the show in Los Angeles able to express what I am saying? That I cannot answer. But I hope."
Pesce is used to being misunderstood. His work flows easily from one practice to the next, his cartoon-like figures a fun cover for pieces that come from a deep well of thought and feeling. Liquidity is essential—consider all the dribbles, or his last name—and whether in a home in Paris, Venice, Brazil, or New York, he likes to be by the water. One of the centerpieces of Dear Future is Pesce's River Table, one of a series of six tables representing bodies of water, a surface representing the river in the middle, with the frame including tiny stairs for miniature people who might want to take a swim.
The water series also commented on climate change—contamination and evaporation. It's a cause that surely most could get behind. But Pesce's political statements can also lean more contentious. In 1969, he released one of his most controversial designs: the Up chair, made of a squishy polyurethane (he was inspired by using a sponge in the shower in his Paris apartment, watching it shrink when squeezed and then pop back up to full size), delivered in flat form that would rise when taken out of a PVC envelope. It was innovative, but the real shock came from the chair's shape: the silhouette of a zaftig woman, breasts at the headrest, thighs spread, attached to a round ottoman with an elastic cord.
There is a rare cork version (one of only two ever produced) called Up 5 and 6 displayed at the Future Perfect show, curves nestled in a sunny corner of the Goldwyn house. Pesce tells W that it was "one of the most important objects" he had ever made. His intent was to symbolize women chained by sexism. "When I did it 53 years ago, nobody thought an object can express a political concept," he says. "I hope a young designer will follow that direction. But it's also important because from the time I made it, nothing has happened in the lives of women. They are still prisoners of the prejudice of men."
Not everyone saw it that way. An Italian feminist group protested the chair's release in Milan, calling it "a further violence against women, represented as helpless and formless bodies, where man is not called into question." Whether you believe either interpretation, the Up chair is certainly exhilarating—when else has a piece of furniture inspired protest?
And over five decades later, Pesce still draws a crowd. The Future Perfect opening was one of the big hits of Los Angeles Art Week, mobbed with people snapping photos. The artist Spencer Longo, with whom I attended the event, noted that the frame of the River Table looked like it had been made from little stalks of broccoli. Right before I got in line to meet Mr. Pesce in the flesh, I was accidentally given a cigarette laced with somehow tasteless weed, and I started to feel inexplicably high. In my stupor, I asked the great man if he had used broccoli or cauliflower in his artistic process. "No," Pesce replied. "What?"