Pink, Halsey, and Charli XCX Slam Grammys Prez for Telling Women to "Step Up"
Neil Portnow's remarks really missed the mark.
---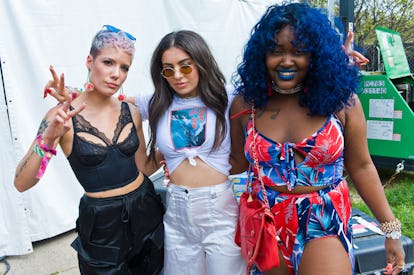 Timothy Hiatt
Intentionally or not, Grammys President Neil Portnow clumsily waded into the Time's Up discussion with his own suggestion: "step up." On Sunday night, the Recording Academy only awarded a single woman with a trophy during the televised portion of the night, and, controversially, denied a solo performing slot to Lorde, the only woman nominated for Album of the Year. Perhaps because the Grammys give out so many awards, or perhaps because people hold it in lesser esteem, the awards show has evaded the scrutiny that the Oscars has been under over the past few years, but the notable lack of female nominees put the issue squarely in the spotlight.
Portnow's immediate response was to seemingly shift the responsibility back on women. "It has to begin with… women who have the creativity in their hearts and souls, who want to be musicians, who want to be engineers, producers, and want to be part of the industry on the executive level," he said. "[They need] to step up because I think they would be welcome. I don't have personal experience of those kinds of brick walls that you face, but I think it's upon us—us as an industry—to make the welcome mat very obvious, breeding opportunities for all people who want to be creative and paying it forward and creating that next generation of artists."
Of course, when a woman like Kesha survives years of abuse and legal battles to release a powerful song about her experience only to lose a Grammy to a man who wrote a song about liking the hips of a woman he met at a nightclub (a song that, notably, borrowed elements from TLC's female-written anthem "No Scrubs," without attribution), it's hard to imagine, what, exactly kind of "welcome mat" he's imagining.
Several female artists, including Pink, Katy Perry, and Charli XCX took to Twitter to call Portnow out on his sloppy remarks:
Even Reese Witherspoon was paying attentiong:
Portnow has since apologized for his comments, saying, "I was asked a question about the lack of female artist representation in certain categories of this year's GRAMMY Awards. Regrettably, I used two words, 'step up,' that, when taken out of context, do not convey my beliefs and the point I was trying to make."
"Our industry must recognize that women who dream of careers in music face barriers that men have never faced. We must actively work to eliminate these barriers and encourage women to live their dreams and express their passion and creativity through music. We must welcome, mentor, and empower them. Our community will be richer for it. I regret that I wasn't as articulate as I should have been in conveying this thought. I remain committed to doing everything I can to make our music community a better, safer, and more representative place for everyone."
It's heartening to think that this could spur some sort of official effort from the Academy to mentor female musicians (and female producers in particularly)—or perhaps to reevaluate its makeup, as the Academy of Motion Picture Arts and Sciences has—but it also makes it sound like he's still not quite aware of how many woman are out there right now expressing their passion and creativity through music who continue to go unrecognized by the ceremony.
Anyway, everyone knows that CTRL was a better album than 24K Magic, so we can only expect so much out of the Recording Industry.
Related: The Gender Gap in Pop Music Is Drastic, Says New Study