The Gender Gap in Pop Music Is Drastic, Says New Study
Females only make up 2% of music producers and 22% of artists on the Billboard Hot 100.
---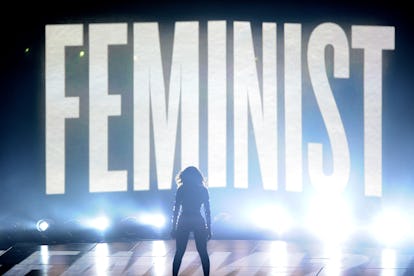 Jason LaVeris/FilmMagic
More and more, the gender gap has become a prominent topic in Hollywood, in the wake of the #MeToo and Time's Up movement. But it should not go overlooked the gap, too, is still dramatic in the music industry. A new study by the USC Annenberg School for Communication and Journalism shows just how much, and it's alarming.
According to the study, which analyzed gender and race and ethnicity across 600 songs that made the Billboard Hot 100 throughout 2012 to 2017, females only represented 2.42 percent of all artists, 12.3 percent of songwriters, and just two percent of producers. That last statistic is especially troubling considering how many aspiring female producers there are in a music industry unwilling to hire them equally—plus the fact that at least one well-known male producer, Dr. Luke, used his position of power to prey upon his collaborators. In other words, the ratio of male to female producers is 49 to 1. "For me, these three findings really punctuate that there is a lot of work to be done, not only on the artistic side but in regards to who is getting access to content creation as songwriters and producers of content," Dr. Stacy L. Smith, Founder/Director, USC Annenberg Inclusion Initiative, told Billboard.
Meanwhile, females' mobility is often limited to whether or not they perform as a solo artist, according to the study. Only eight percent of females who made the Billboard Hot 100 were in bands, while only five percent were in duos; 32 percent of females were solo artists. What's also troubling is that the percentage of female songwriters has actually decreased in recent years. In 2012, it was just 11 percent, while it peaked in 2015 at 13.7 percent and has since declined to 11.4 percent in 2017. The gender gap is also real at the Grammy Awards, where only 9.3 percent of nominees between 2013 and 2018 were female. On the other hand, the study shows that 42 percent of artists on the Billboard Hot 100 are from an underrepresented racial or ethnic group.
As Smith explains, "The thing that we are most excited about is we see music as a targeted opportunity to change the whole conversation about inclusion in entertainment. If you look to the findings on underrepresented racial or ethnic groups, fully half of the female artists over the last couple of years are women of color. And I think that this can really send a signal to film and television about what sells, what audiences desire and consume, and it stands in direct contrast to what we see on screen in those other platforms."