Are the Grammys Rigged?
Former Grammys Chief Deborah Dugan alleges conflicts of interest when it comes to the Academy's voting process.
---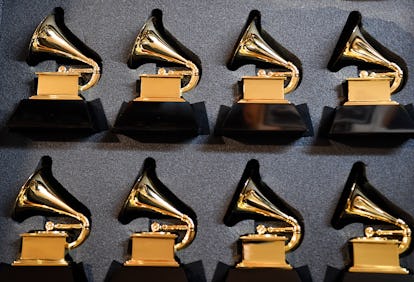 The Grammys have a problem. Or rather, many problems, which were cataloged in a 44-page complaint by former Grammy chief Deborah Dugan.
Dugan took over for Neil Portnow (you know, the guy who said that women need to "step up" if they want to "be a part of the industry on the executive level" in 2018) when he was ousted from the position. A few days ago, she too was let go, under mysterious circumstances, which led to the filing of her official complaint with the Equal Employment Opportunity Commission.
According to Dugan, the Recording Academy has been a hotbed for racist and misogynistic behaviors, bolstered by what she refers to as a "boys' club."
On December 22, 2019, she says, she filed a complaint with HR and three weeks later the Board's Executive Committee put her on leave in retaliation. Her message to the Academy's HR department informed them that she had claims to bring against the Academy, concerning workplace sexual harassment and an allegation of rape.
In this document filed with the EEOC, Dugan claims that shortly after being appointed Grammy Chief, she learned that Portnow had been accused by a "foreign" artist of raping her after she performed at Carnegie Hall. (Portnow issued a statement on Wednesday denying the allegations in the document, which he called "ludicrous," "untrue," and "baseless".)
After learning of the rape, Dugan then refused to follow the Academy's orders that she hire the disgraced former CEO as a consultant for a $750,00 salary. This didn't sit well with the Board, nor did her allegation that she withstood sexual harassment from general counsel Joel Katz, who attempted to kiss her and insisted on a dinner date where he called her "baby."
Dugan's document also brought to light the fact that the Academy has historically been led by men, and that women and people of color are underrepresented within the Academy and as nominees for awards (the document highlights that only 10 black artists have won Album of the Year, and between 2013 and 2018 women made up just only 9.3% of the nominees for the Record of the Year, Album of the Year, Song of the Year, Best New Artist, and Producer of the Year).
The document also reminds us that a good number of the Board members are leaders in the executive space of the music community, meaning they represent or run companies that represent various artists. Since 2012, 68% of the Board has comprised of men, and that governing body is 69% white.
It's important to keep those facts in mind when looking at Dugan's claims that there is also corruption within the voting process.
According to Dugan, the Grammy voting process goes a little something like this: submissions come through and 12,000 members vote on them, then board members gather in "secret committees" to make the top 20 selections for each category. However, there may be conflicts of interest, according to Dugan, who claimed that board members who have relationships with certain artists will push for them to be considered as nominees and winners.
"To make matters worse, the Board is permitted to simply add in artists for nominations who did not even make the initial 20-artist list," the complaint says. "Naturally, the members of the Board and the secret committees chose artists with whom they have personal or business relationships. This year, 30 artists that were not selected by the membership were added to the possible nomination list."
"Moreover, in an outrageous conflict of interest, the Board has selected artists who are under consideration for a nomination to sit on the committee that is voting for the category for which that have been nominated," it continues. "As a result, one artist who initially ranked 18 out of 20 in the 2019 'Song of the Year' category ended up with a nomination. This artist was actually permitted to sit on the 'Song of the Year' nomination committee. Incredibly, this artist is also represented by a member of the Board."
Using Ed Sheeran and Ariana Grande as examples, the document claims that they were in the running for 2019 "Song of the Year" nominations (they "had been voted for by the membership") but were ultimately not nominated because "the aforementioned artist who ranked 18 out of 20 was nominated instead."
There is also the claim that "high caliber artists who could have taken home the award in a specific category have, at times, not been nominated at all," so all of those times you remember some of your favorite artists included in the discourse of Grammys snubs, there is a chance that they might not have been nominated due to a lack of personal relationships with Board members.
Oh, and there's also the claim that Grammys producer Ken Ehrlich will make sure the Board nominates a song or album if Ehrlich wants to hear it performed during the ceremony.
Dugan's claims lead one to believe that the show producer's influence over the nominees (and performers, of course) could be a desperate attempt to get more eyeballs on the ceremony. Whether or not it's been working, however, remains to be seen. Viewership for the Grammy Awards has gone down since 2012, when 39.91 million people tuned in to the show (last year was a bit of an exception to the downturn, where viewership increased from 19.8 million to a measly 19.88 million, but there are still roughly 20 million fewer viewers than there once were just 8 years ago).
So, it's not just stans on Twitter popping off about unfairness when they see their favorite artist did not receive a Grammy nomination, or Macklemore sharing screenshots of his text conversation with Kendrick Lamar after winning Best Rap Album. It would appear, according to these claims, that the longstanding suspicion that these awards shows are rigged could be true. But none if it is actually surprising—it feels like we've all resigned to believing that awards ceremonies like the Grammys must be a corporate popularity contest, it's just that we haven't had as much clarity on what exactly goes on with the Academy on the inside until now.