Guillermo Del Toro's Frankenstein Reportedly Circling Twitter's Favorite Actors
The director is reportedly eyeing Oscar Isaac, Andrew Garfield and Mia Goth for roles in his upcoming live-action feature for Netflix.
---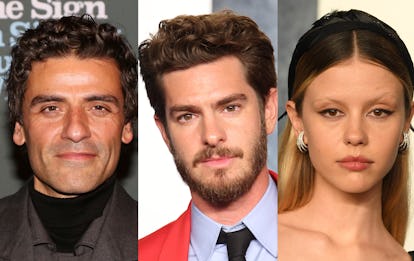 Getty
After taking home the best animation Oscar on Sunday for his take on Pinocchio, Guillermo del Toro is preparing to bring his vision to another classic tale. The inventive filmmaker is making a live-action version of Frankenstein for Netflix, and already has his eye on his main cast.
Rumor has it that Del Toro is considering Oscar Isaac, Andrew Garfield and Mia Goth for lead roles in the film. According to sources, the director is "circling the actors" but has no formal offers out yet. Given the source material, the casting choices would make a lot of sense; Isaac is best known for his performances in both prestige and commercial sci-fi fare like Ex Machina and X-Men: Apocalypse, while Garfield has a background playing both Spider-Man and meaty drama roles (like Mark Zuckerberg's jilted business partner in The Social Network).
Goth has made a name for herself as horror's leading lady, winning cult acclaim for her performances in Ti West's trio of slasher thrillers from last year (including X and Pearl) and as a sociopathic agent of chaos in Brandon Cronenberg's Infinity Pool. With Mary Shelley's 1818 novel Frankenstein being considered Gothic horror, Goth would fit right in.
Though Del Toro's known love of monsters and fantasy mean he's long teased at creating his own take on Frankenstein, as recently as 2019 the Shape of Water director casted doubt on the project moving forward. "I had an idea to do Frankenstein and Bride of Frankenstein, but I don't think it's going to happen," he said at the Tribeca Film Festival that year. "I really believe that the movies I do, most of the time, I do them because the premise is so absolutely bonkers."
The film would also continue the director's successful relationship with Netflix; in addition to winning them an Oscar with Pinocchio, Del Toro also created the creepy anthology series Guillermo del Toro's Cabinet of Curiosities for the streamer. Stay tuned for updates as Del Toro works on perhaps his spookiest creation yet.