A Timeline of Harry and Meghan's Relationship With William and Kate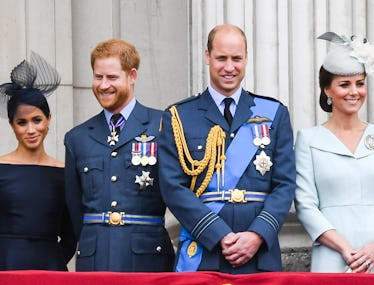 Photo by Anwar Hussein/WireImage
Prince Harry told Oprah Winfrey that while he'll always love his brother Prince William and will always be there for him, he clarified, "the relationship is space. Time heals all things, hopefully." In other words, rumors of some sort of personal rift were true, and whatever the relationship between Meghan Markle and Kate Middleton is exactly seems beside the point (much to the chagrin of misogynistic corners of the press who would love to explain this all away as a catfight).
Though, even the simple brotherly relationship between Harry and William doesn't likely explain it all. As was made clear in Winfrey's interview with Harry and Markle, there's the actual blood family and then there's "the firm." These aren't quite freely interchangeable units, either. The family is the actual family, but "the firm" (or "the institution") includes each of those family member's seniors advisors and paid staff, which quite obviously would complicate any familial rifts.
While it wasn't addressed directly in the interview, you might recall that Harry and William, who once represented something of a combined unit, officially split both their staffs and households in recent years. Laying out the timeline may just prove informative.
November 27th, 2016: William Releases a Rare Solo Statement Defending Meghan Markle
After a few months of rumors, the Royal Palace confirmed that Prince Harry was dating the American actress in an unprecedented fashion: Kensington Palace, which at the time was more or less shorthand for the joint staffs of William and Harry, asked for privacy for the couple. A few weeks afterward, Prince William took the even rarer step of issuing his own solo statement, reading, "The Duke of Cambridge absolutely understands the situation concerning privacy and supports the need for Prince Harry to support those closest to him."
In other words, things were fine between the brothers at the time. At least, publicly speaking.
November 27th, 2017: Harry and Meghan Announce Their Engagement
Exactly a year after William's statement, Harry and Meghan publicly announce their engagement for the first time.
March 26th, 2018: William Hires Simon Case as His New Private Secretary
Despite the relatively unassuming name, the private secretary of each royal (aside from, arguably, the Queen, who has a much larger staff) is their most senior aid and "head of household." These private secretaries very much represent the non-family portion of "the firm."
For years, William and Harry actually shared a private secretary in Major Jamie Lowther-Pinkerton. Upon his retirement in 2013, each prince got his own. William chose Miguel Head, who had previously worked for both Harry and William handling media arrangements; William's chief aide, therefore, had previously been a longtime royal staffer with his own relationship with Harry.
In 2018, that changed when William hired Simon Case as his new private secretary. Case is no longtime royal insider, but rather a Conservative political figure. He had previously worked for former Prime Minister Gordon Brown and was actually assigned to negotiate elements of the Brexit arrangement when William hired him. Notably, Case had no prior relationship to Harry.
May 19th, 2018: Harry and Meghan Wed
It's the big day, and all seems well on the public front. Though, we now know that in the lead-up to the ceremony Kate Middleton and Meghan Markle had a minor dustup about flower girl dresses that left Markle in tears.
October 15th, 2018: Meghan Announces She's Expecting
October 27th, 2018: Word Leaks That Harry and William Will Split Their Households
Inevitable, or signs of a rift? It's still not entirely clear, but by October of 2018, word leaked that the princes were planning to officially split their royal households and hence, have completely different staff and support systems. The timing may be interesting, but the split would have occurred at some point. By way of comparison, Prince Charles and his three siblings have all had their own individual staff for decades.
November 27th, 2018: "Crygate" Hits the British Press
The Daily Telegraph runs a story claiming that Meghan Markle has made Kate Middleton cry ahead of Markle's wedding. Over in America, People magazine reports their own sources "confirm" the event. It's a moment that Markle now says marked a definitive shift in her relationship to both the tabloids and "the firm."
Christmas Day, 2018: A United Front for the Holiday
Upon Markle's first Christmas as an official royal, the two couples arrive literally in lockstep at the family's official church ceremony with smiles notably on the faces of Markle and Middleton, temporarily ending any rumors of bad blood.
March 4th, 2019: The Households are Officially Split
Turns out the rumors were true.
April 4th, 2019: Harry and Meghan Officially Move to Frogmore Cottage
While several minor royals live at Kensington Palace, which is located in one of the poshest areas of bustling London, for years the princes were the most prominent resident. So it was somewhat telling when Harry and Meghan decided to move to Frogmore Cottage, which is located out in the countryside.
April 2019: Commonwealth Rumors
Shortly after their official move to Frogmore, rumors emerge that some "bespoke" role for Harry and Meghan stationed in one of the commonwealth countries emerges. In the interview, Markle confirmed that such plans were discussed.
May 6th, 2019: Master Archie is Born
Early 2020: Meghan and Harry Announce Plans to Step Down as Senior Members of the Royal Family, Move to Canada, and Eventually Los Angeles
Though Harry claims no one was "blindsided," publicly, early 2020 brought a whirlwind series of events that eventually culminated in Meghan and Harry stepping down as senior royals and settling in Markle's native Los Angeles. In Harry's own words, there's now a lot of "space" between the pairs.