Beyoncé Was Completely Unbothered at Her Grammys After Party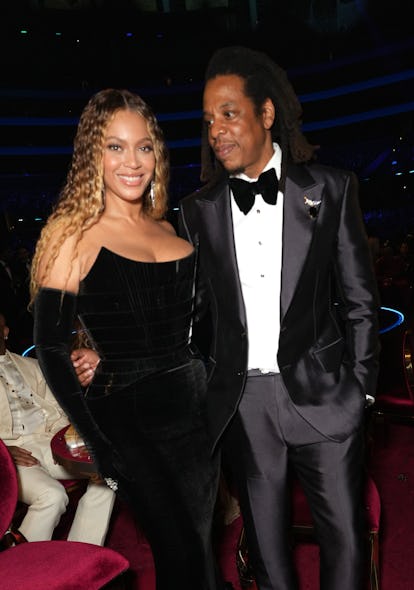 Kevin Mazur/Getty Images Entertainment/Getty Images
The Internet erupted in anger after Beyoncé lost Album of the Year to Harry Styles at the Grammys on Sunday night, with fans seemingly ready to burst out onto the streets and go all "Lemonade" on voters' cars. Little did they know, that while they were posting their displeased reaction memes and rants on Twitter, Instagram, and TikTok, Beyoncé herself remained unbothered. The singer left the award show following her snub and floated into an after party, where she danced the night away in her Schiaparelli haute couture gown.
On Wednesday, Beyoncé provided a peak into the celebration on Instagram. Videos and photos from the evening showed the singer rolling around in bed with her four newly-earned Grammys and dancing with her mom Tina Knowles, Kelly Rowland, and Lizzo, among others.
Set to "Cuff It (Wetter Remix)," the video also featured more shots of the singer's three looks from the evening, as well as the moment when she accepted the award for Best Dance/Electronic Music Album earlier in the night. Her husband, Jay-Z was also featured heavily in the clips, walking with Beyoncé after her win, dancing with her at the party, and just looking jovial over all.
Ahead of the Grammys, Jay-Z spoke in an interview with Tidal about why he believes Renaissance deserves the Album of the Year honor. "Look what it's done to the culture," he said about the album. "Look how the energy of the world moved. They play her whole album in the club. I don't know if I've ever seen that. The whole entire joint — like, everything?! Every remix is amazing. Everyone's inspired. It has inspired the world." He continued, saying "When it just inspires creativity, that's an album. That has to be Album of the Year. It has to be."
But just because it didn't win the award doesn't diminish the affect the album had on music and culture. And from Beyoncé's video, it seems the couple is very aware of that, happy to celebrate their wins, knowing the Recording Academy is a flawed institution and Renaissance's strengths were not diminished because it doesn't have the AOTY title. We should learn from that as well, and just celebrate Beyoncé and enjoy what she has to offer, because honestly it seems like this might be the only "music video" for "Cuff It" we're going to get anytime soon.