A Breakdown of All of Beyoncé's Grammy Night Looks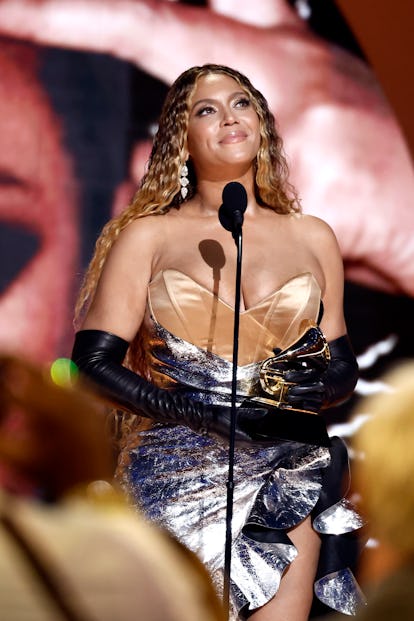 Emma McIntyre/Getty Images Entertainment/Getty Images
No mater what voters say, last night was Beyoncé's night. Even before the Grammy Awards started, the singer's name was on everyone's lips. As attendees walked the red carpet and were asked, "What are you most excited for tonight?" the unanimous answer seemed to be "seeing Beyoncé." And while the Queen arrived late to the ceremony, missing her first award of the evening (even Beyoncé isn't immune to LA traffic), when she finally arrived, she quickly made up for lost time. By the time the credits on the broadcast were rolling, the singer had four new Grammys to her name, a Recording Academy record, and three more outfits to add to her look book.
Before Beyoncé even arrived to the Crypto.com Arena on Sunday, she'd already debuted her first look of the night. In celebration of her first three wins of the evening, the singer shared a photo on Instagram in a custom Balmain look. Styled by Marni Senofonte, the outfit was constructed from light pink velvet and featured a low-cut neckline lined with gold metal and sleeves that turned into gloves The dress then continued around Beyonce's shoulders into a cone-like structure that framed her back. The bottom was more simple, featuring an asymmetric skirt that revealed matching leggings underneath, which continued into the platform heels on her feet. Beyoncé accessorized the look with some bold, embellished sunglasses, chandelier earrings, and a gold, disk-like headpiece, which almost resembled the statues in her hand.
Once she arrived at the awards, however, Beyoncé was in a completely different look. For her in-ceremony outfits, the singer tapped K.J. Moody to style her. She showed up in a custom Gucci dress to accept the Grammy for Best Dance/Electronic Music Album, an award which also made her the winningest artist in Grammy history with 32 awards. The piece featured a champagne-colored corset bodice with a sweetheart neckline, and a metallic silver skirt with a high slit hemmed with ruffles. Black leather opera gloves, strappy silver heels, and Lorraine Schwartz jewels completed the ensemble.
And though she may have only attended a portion of the awards, Beyoncé still found time to squeeze in an outfit change, and before the ceremony was over, the singer was spotted in yet another dress. For number three, Beyoncé went for something a little simpler, opting to wear Schiaparelli haute couture to close out the night. Inspired by look 18 from Daniel Roseberry's recent show, the dress featured a more toned down version of the mirrored corset which walked the runway in Paris just last month. A long velvet column skirt and matching opera gloves then completed the look, and made it perfect for toasting her win.
Now, with her upcoming Renaissance tour approaching, we can maybe use her Grammy looks as a hint of what will come when Beyoncé hits the world's stages later this year. Throughout Grammy weekend, the singer embraced a sort of sci-fi cosplay, wearing silhouettes that Ruby Rhod would drool over. In fact, at the Roc Nation brunch on Saturday, she arrived in a custom Garret Pugh look that could have come right from the set of a Fifth Element remake. The aesthetic would suit itself to concert looks, but we will have to wait until the tour kicks off in Sweden in May to see what Beyoncé pulls out. And don't worry, even if you don't have tickets to opening night, if her Dubai concert was any indication, the entire performance will be on TikTok and Instagram within seconds for us all to devour from the comfort of our couches.