Beyoncé Makes Grammys History With Most Awards of All Time
The singer thanked the queer community during her emotional acceptance speech.
---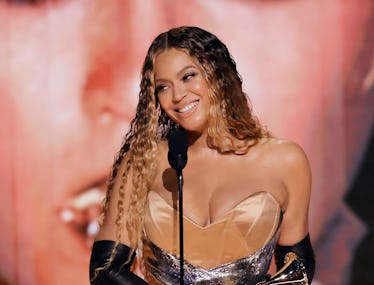 Kevin Winter/Getty Images Entertainment/Getty Images
Beyoncé made history at the 65th Annual Grammy Awards, becoming the ceremony's most decorated artist ever. She was tied for the record before she'd even arrived, nabbing her third award of the night and 31st overall while she was reportedly stuck in LA traffic.
Accepting the award for best dance/electronic album for 2022's Renaissance, an emotional Bey—wearing a gold and silver metallic Gucci corset dress with elbow-length leather black gloves—thanked God, her family and specifically, her late Uncle Johnny, who is mentioned on the album as an early influence on her style and artistry. In that vein, she also thanked the queer community for its support and for inventing the dance music genre.
"Thank you so much, I'm trying not to be too emotional," Beyoncé told the crowd, which included her husband, Jay-Z. "I'm trying to just receive this night. I want to thank God for protecting me, thank you God. I'd like to thank my Uncle Johnny who's not here but he's here in spirit. I'd like to thank my parents—my father, my mother for loving me and pushing me. I'd like to thank my beautiful husband, my beautiful three children who are at home watching. I'd like to thank the queer community for your love and for inventing this genre. God bless you. Thank you so much to the Grammys."
The win also marked the first time a Black woman has won the best dance/electronic album. Beyoncé's other wins of the evening included best R&B song for "Cuff It," best dance/electronic recording for "Break My Soul," and best traditional r&b performance for "Plastic Off the Sofa." In an Instagram post, Bey gave a shout out to her collaborators on those songs, and included the note that "PLASTIC OFF THE SOFA is my favorite song on RENAISSANCE most days. It's hard to pick though. Haaa."
Beyoncé broke the record of Hungarian-British orchestra and opera conductor Georg Solti, who died in 1997 after a prolific career. Being of Jewish background, he fled to Switzerland during World War II, where he earned a living as a pianist. He eventually became a British citizen and in 1969, became the music director of the Chicago Symphony Orchestra, a post he held for 22 years. He conducted multiple recordings with the orchestra, and between 1963 and 1998, he was awarded with 31 Grammy awards.
Last week, Beyoncé announced her first solo world tour since 2016's Formation Tour, revealing she'll be embarking on the Renaissance World Tour in May 2023. For all the details, head here.