Jennifer Connelly on Nepo Babies: "What?"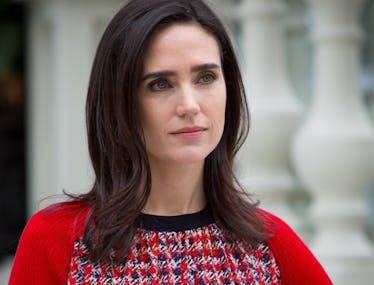 Photo by Pablo Cuadra/WireImage
If you're terminally online and celebrity-obsessed, you're no doubt well aware of the ongoing Nepo Baby wars—and you probably think it could be one of the defining issues of our time. But if you have, say, no relationship to Twitter whatsoever, then you may hardly be aware that it's even considered a "debate." Count Jennifer Connelly among the later. When asked to weigh in on the issue, the actress was left at a loss for words. She wasn't even aware it was anything anyone was even talking about. How enviable.
Connelly, for the record, is decidedly not a nepo baby. She was born to normal parents with normal jobs, and raised between Brooklyn Heights and upstate New York. Neither of her three children have, so far, embarked on a show business career, either. Still, not even Connelly can evade being dragged into the conversation.
The actress is currently in Sundance promoting her next film, Bad Behaviour, the directorial debut of Alice Englert. Who is Englert? Well, the daughter of Jane Campion, the most recent winner of the Best Director Oscar—which led IndieWire to broach the topic in an interview.
"I haven't been following the nepo baby debate," Connelly replied. "I don't know what the debate is."
After the interviewer explained the concept, Connelly responded: "That's not a debate."
She then added that she was drawn to Bad Behaviour based on the strength of Englert's script and the promise of her short films—which makes sense. Connelly has an Oscar, a longtime relationship with Louis Vuitton, a co-starring part in one of last year's biggest films, Top Gun: Maverick, and a husband who is making Marvel money. She's obviously not making career choices with the sole intent of giving Jane Campion's kid a break in the industry.
She's already accomplished more in show business than most nepo babies could ever dream of, and clearly she isn't threatened by them. Englert's film has also been met with mostly positive reviews, with IndieWire calling the director "a formidable, fully formed filmmaker."