Jonathan Majors Is Ready for Takeoff
In Devotion, the actor plays the real life naval airman Jesse L. Brown. Soon, he'll soar through the box office as the MCU's Kang the Conqueror.
Interview by Lynn Hirschberg
Photographs by Jamie Hawkesworth
---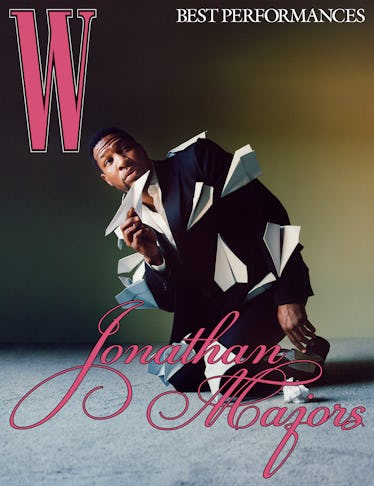 Jonathan Majors wears a Louis Vuitton Men's jacket, shirt, and pants; Adidas sneakers.
Since breaking out in 2019 with a starring role in A24's poetic The Last Black Man in San Francisco, Jonathan Majors has seen his career skyrocket. The actor has garnered critical acclaim for roles in Spike Lee's Da 5 Bloods, HBO's Lovecraft Country, and Disney+'s Loki, and he'll play Kang the Conqueror in the forthcoming Ant-Man and the Wasp: Quantumania. But he goes back to his roots with Devotion, in which Majors, who grew up on military bases with his father, who was in the Air Force, portrays Jesse L. Brown, the first Black naval aviator in American history. Below, the 33-year-old star talks about how the film changed him and what's next on the horizon.
How did Devotion come into your life?
Devotion came into my life like a miracle. I got a phone call, and I was told it was about the first Black naval aviator [Jesse L. Brown]. I read the story and realized that the character they were asking me to portray was actually my hero.
Did you learn how to fly a plane?
No. I did learn how to operate a plane. Here is the emotional arc of learning to fly: Excited. Scared. Fun. Terrified. Adrenalized. Sick as a dog. Relieved. Extremely confident. And then after that, you will get a speeding ticket because it is impossible to drive your car after you've flown a plane. Sorry to the city of Atlanta.
Did the flight instructors give you any advice?
Yes. It's important not to panic in the air. Be calm, be focused, call your mom, and please sleep. Sleep hygiene. Everything is better when you sleep. And oh god, I love to sleep. When you train hard, you have to sleep hard. You call it the growth chamber.
Do you have vivid dreams?
You have no idea. I mean, my dreams are epic. It's quite beautiful how the subconscious works and tells you things and helps you fly the plane.
The film is also very much about love.
Yeah, one of the things that I found so intriguing and unique about the project was that the big love story is not between Jesse and flight, it's not between Jesse and Tom Hudner, played by the beautiful Glen Powell. It's actually the relationship between Jesse and his wife, Daisy, played by the beautiful Christina Jackson. The love between Jesse and Daisy is what propels us to the end of the film.
The last time I saw you, you had just taken up boxing for Creed III. What was that experience like?
I've always loved boxing. Now I have a different appreciation for it. The conditioning is different, the mentality is different. My coach, Rob Sally, said to me, "People fight the way they live." And that makes watching boxing that much more interesting. It's very much like acting. You can learn a lot about the fighter outside the ring in watching a fight in detail. Same way everyone learns a lot about actors, or believes they know a lot about actors, from watching their work.
You're set to star as Kang the Conqueror in Ant-Man and the Wasp: Quantumania. Have you seen your action figure?
I don't even know if I can talk about that. It's so deep.
You'll at least inspire some Halloween costumes.
Who knows what's gonna happen, but that'd be fun.
Hair for portfolio by Anthony Turner at Streeters; makeup for portfolio by Lucia Pica for Byredo at Art Partner. Senior style editor Allia Alliata di Montereale; senior fashion market editor Jenna Wojciechowski. Manicure for portfolio by Michelle Saunders. Set Design by Gille Mills at 11th House.
Produced by Connect the Dots; executive producer: Wes Olson; producer: Zack Higginbottom; production manager: Nicole Morra; photo assistants: Cecilia Byrne, Jack Buster, David Gurzhiev; retouching: Simon Thistle; fashion assistants: Julia McClatchy, Tori López, Jacqueline Chen, India Reed, Nycole Sariol, Derek Ezra Brown, Karla Garcia, Rosa Schorr; production assistants: Khari Cousins, Tchad Cousins, Kelsey Swope Romero, Mateo Calvo, Juan Calvo, Rayon Pollard, Gina York, Peter Ditzler, Nico Robledo; hair assistants: John Allan, Dylan Michael, Ramdasha Bikceem, Malika Palmer; makeup assistants: Kate O'Reilly, Lilly Pollan, Bailee Wolfson; manicure assistants: Pilar Lafargue and Victoria Valenzuela, Jolene Brodeur; set assistants: Cory Bailey, Dirk Knibbe, Joel Garcia, Matt Day; tailors: Irina Tshartaryan, Ripsime Vartanyan at Susie's Custom Designs, Inc.