On Pride Month, Judy Garland Returns to Hollywood
Nearly 50 years after her death, Judy Garland was re-interred in Hollywood, a fitting homecoming on Pride Month for the gay icon. Now, her daughter Lorna Luft says, her fans can say farewell all over again.
---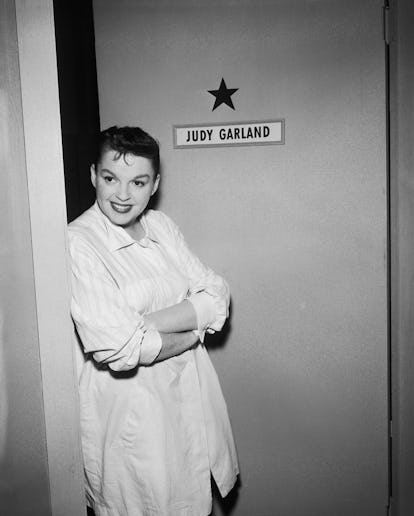 CBS Photo Archive
When Judy Garland died in 1969, the movie musical legend was buried in Ferncliff Cemetery in Westchester, New York, because her last husband, musician/entrepreneur Mickey Deans, was in control of the estate. But now, Garland's 's entertainer daughter Lorna Luft has arranged for her mother's crypt to be moved to L.A.'s Hollywood Forever, a far more appropriate cemetery, where she's near other celluloid icons like Douglas Fairbanks, Jayne Mansfield, and Cecil B. DeMille.
This past Saturday—which would have been Garland's 95th birthday—Luft, her children and grandchildren, and singer/friend Michael Feinstein attended a re-internment ceremony at the mausoleum, which has been renamed the Judy Garland Pavilion and will become the site where Garland's progeny [presumably including Oscar-winning daughter Liza Minnelli and film aficionado son Joey Luft] will one day be buried themselves. All that talent in one room will surely keep things very jazzy.
Judy Garland is fully worthy of the relocation and the attending hoopla—it's like one more comeback for her. A child performer who emerged as a heart-tugging triple threat in 1939's The Wizard of Oz, Judy could project decency, vulnerability, and spunk like no other star, and she wrapped it up with a tremulously beautiful vocal delivery that could melt even the most hardened troll. From the beginning, she had to contend with character-building experiences, like MGM studio head Louis B. Mayer putting her on a strict and unhealthy diet and making her take slimming pills, then also demanding she down pep pills to extort more energy out of her.
But Garland kept quivering and delivering, and developed into a brilliant adult leading lady, with a filmography spanning 1944's nostalgia musical Meet Me in St. Louis (directed by future husband Vincente Minnelli, with whom she spawned the original Hollywood scion Liza) and 1954's musical A Star is Born, in which her fame soared as hubby James Mason tragically took to the bottle. Garland's death by an accidental barbiturate overdose on June 22, 1969 has been cited as one of the subtexts of the Stonewall rebellion six days later—the uprising that defined the modern LGBT movement, so it's in many ways fitting that Garland has found a new home during Gay Pride Month. They even had a movie night after the re-internment, and, naturally, showed The Wizard of Oz. ("Over The Rainbow" has long been an anthem for the rainbow-flag-waving gay community.)
"It was extraordinary. It was beautiful. A lot of tears were shed," said Lorna Luft in an exclusive interview the day after the ceremony.
"I was 16 when she died. We were never consulted as to where she was going to be. I was in such shock and I guess the word would be fear because of the circus of that funeral [held at Frank E. Campbell's Funeral Chapel in New York]. Mickey Deans made the decision to have an open casket. None of us had any say. I've been working on this for 12 years, but I had to wait until no one else was still around to challenge me—Mickey, his lawyers, all of that. I would say to myself, 'Ma, I'm gonna have you move.' When the opportunity of Hollywood Forever became available, I had to keep waiting, and when everybody finally basically died, I thought 'Here we go.'
"It was so quiet," Lorna went on about the half hour ceremony, "and they closed the whole cemetery down." Officiating was Gabriel Ferrer (the son of late singer Rosemary Clooney), who had also helped officiate Michael Feinstein's gay wedding in 2008. "It was incredibly celebratory but hard. I've waited 48 years to say, 'Welcome home, mama.' And then my daughter, Vanessa Richards, got up and said, 'This is the first time I ever got close to my grandmother. Now I can see her, and my little boy Logan can see her. I'm so grateful this happened,'" Luft told me later.
Luft's son Jesse also spoke, saying he remembered when he was 8 and asked his mother what Garland would like to have been called. ("Grandma"? "Granny"? "Nana"?) Jokingly, Lorna replied, "Miss Garland."
Ferrer gave the final blessing, and the extraordinary crypt was unveiled—nicer than any MGM trailer. "It's magnificent," said Luft. "I worked on it and it was everything I wanted." The casket is done in a rose colored marble, with a white rose, and Judy's name in a chocolate brown. There's also an inscription from Judy's favorite song, "Through The Years". ("I'll come to you smiling through the years".) If looking at that doesn't rip your heart out and stomp on it, you're probably not human—or don't have Turner Classic Movies.
The Wizard of Oz screening that followed—on a big lawn at the cemetery—drew 4000 people who Luft said, "were able to go and pay their respects to the greatest legend who ever lived." "It was my project," Luft said of the memorable day with justifiable pride, adding that Liza and Joey were fine with the plan and were slated to visit the grave on Sunday.
This is one of the great Hollywood examples of closure, literally speaking, especially since Luft avoided ever visiting her mother at Ferncliff all those years. For a long time, she had trouble hearing her mother's voice or watching her films because it reminded her of the devastating loss. "After a while," she remembered, "I realized she's always within me. I don't need to go to a place that she didn't know—it wasn't her choice. It meant nothing to my family."
Through all the complicated dynamics of keeping mama's torch alive, Luft has talked openly about the rarefied situation of being the child of a legend. "We're born under a microscope we didn't ask for," she said. "You can either do two things—you can battle against it and try to run from it, but you're not gonna get away from it and that's only gonna come with knowledge and age—or you can embrace it. But it's much harder for people like myself who don't have the forefront person to get you through it. I never had the chance to grieve by myself, and when I did, everyone said, 'Don't cry so much. You'll be fine.' But I remember getting into taxi cabs and these strangers started to cry, and I wound up saying, 'It's OK' and comforting them. It's confusing. You don't know how to act. You don't know how to say to people, 'I know she was your icon, but she was my parent'."
I wasn't surprised to hear that when Lucie Arnaz's mom [comic legend Lucille Ball] passed away, Arnaz told Lorna, "You're the only one who gets it." And now, Garland is back where her career was centered, as well as being near her family, and Luft considers it all a giant give-back to her fans too.
"She loved her fans," Luft said, "and now every single girl or boy on Halloween who's dressed up in a gingham dress knows where they can say thank you." Farewell again, Miss Garland.
Related: For Gay Pride, Don't Just Remember: Kick Up Your Heels and Get Loud
Liza Minnelli's Style Evolution, From Studio 54 to Today
Minnelli appeared alongside her mother in 1963 on the Judy Garland Show, both in matching outfits. This pink sparkling ensemble would show that she isn't afraid of color and sparkle.

Getty
Performing live on the Ed Sullivan Show in 1965, Minnelli opts for classic black dress with her hair still long and black.

Getty
Sporting her iconic black pixie cut, Minnelli wears a green dress embellished with white daisies to the 1968 Tony Awards.

Getty
With Cabaret co-starJoel Gray in 1972, wearing a monochromatic white suite with a deep cut blouse that would be just as chic in 2017.

Getty
At the 1972 Paris premiere of Cabaret wearing a long white dress with matching stole and turban, her bold lashes and red lips make the look all her own.

Getty
Holding her Best Actress Academy Award in 1973 in a gold ensemble, a nod the gold Oscar she would receive that night.

Getty
Celebrating her anniversary in 1975, she wears a dramatic white silk dress with bell sleeves and high collar.

Getty
Attending a birthday party in 1977, the star dances in purple silk jumpsuit–the perfect party piece for the times.

Getty
Opting for a more mature look, Minnelli stands with fellow actress Goldie Hawn at the 1980 Academy Awards in high collared white blouse that is cinched at the waist with a black bow.

Getty
Attending a luncheon hosted by Dior, the actress wears a menswear-inspired ensemble with an embellished neck piece.

Getty
Never shy from the drama, Minnelli wears a red silk cape over a black dress to the 60th Annual Academy Awards in 1988.

Getty
Off the red carpet, Minnelli dons a classic silk top and black trousers, elevating the look with layered jewelry.

Getty
Showing off her body at the 30th Annual Grammy Awards in 1988, Minnelli stands with actor Patrick Swayze in a form-fitting short black spaghetti strap dress.

Getty
Taking inspiration from the minimalist fashion of the '90s, the actress wears a simple black gown with gold belt to the 64th Annual Academy Awards in 1992.

Getty
Opting for a more exciting look, Minnelli wears a black and white draped suit to the 65th Annual Academy Awards in 1993.

Getty
Channeling the '70s, Minnelli wore an all black look with deep cut top, wide legged pants, and a sequin blazer to the Tony Awards in 1996.

Getty
In a high-low black silk dress, the actress attends the 50th Annual Tony Awards in 1996.

Getty
Revisiting all white, Minnelli attends the Tony Awards in 1997 looking great in a white silk gown with matching white stole.

Getty
At the Tony Awards in 2000, the actress wears a simple off-the-shoulder black silk dress.

Getty
At 62, Minnelli shows she can still show some skin, wearing a menswear-inspiredm double-breasted jacket with a black lace bra on stage at the Tony Awards in 2008.

Getty
Attending the amfAR Gala in 2009, the actress wears maroon sequined pants and a matching blouse.

Getty
Minnelli keeps it simple attending the Tony Awards in 2009 in a draped black top.

Getty
Always willing to take a risk, the actress wears black military-inspired dress with a quirky cap to a charity event in 2010.

Getty
Watch: Barbra Streisand on Her Favorite Birthday Memory