Alden Ehrenreich On His 5-Year Long Audition for Warren Beatty's Rules Don't Apply and How He Joined the Cast of Star Wars
The young actor Alden Ehrenreich opens up about how he became an actor, being a Star Wars fan and more.
---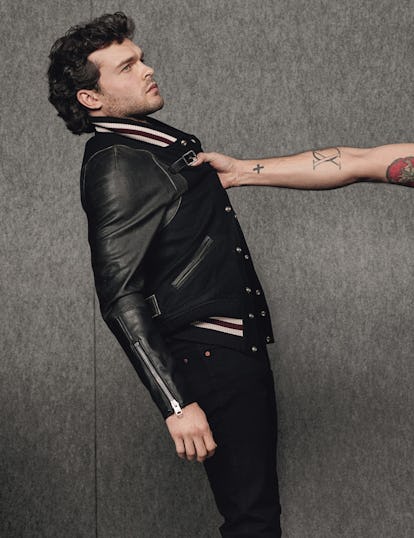 Photographs by Craig McDean. Styled by Edward Enninful. Hair by Orlando Pita for Orlando Pita Play; makeup by Peter Philips for Dior. Manicures by Michelle Saunders for Essie at Forward Artists. Set design by Piers Hanmer.
Alden Ehrenreich is a movie star from another time–his breakout roles include the Coen brothers' film Hail, Caesar! and Warren Beatty's labor of love Rules Don't Apply–but he's about to be catapulted into pop culture with a part in an upcoming installment of the Star Wars franchise. Here, the young actor opens up about his first audition, what it's like working with a legend like Beatty, and, of course, his favorite Han Solo moment.
Lynn Hirschberg: What was the very first thing you auditioned for?
Alden Ehrenreich: Oh my god. Um, the very first thing I auditioned for was a school play. But then a friend of mine's dad was making 13 Going on 30 and I didn't have an agent or anything, but they had me come in to audition to play young Mark Ruffalo.
How perfect.
Yeah.
And did you get it?
No, I didn't. Then about a year later I got an agent and started auditioning.
Did you want to be an actor from when you can first remember?
I think so. I sort of wanted to be the people I saw in the movies and then I would, you know, play dress up and pretend I was those people. My parents would do these kind of like film festivals at our house where we would watch lots of old movies, so I watched all the Marx Brothers movies and John Wayne movies and stuff like that. I liked Peter Pan a lot. I liked Hook a lot. What else? I liked, just anything, anything I saw. I grew up watching a lot of Turner Classic Movies on TV so I would see these old movies all the time.
Well you have a very old movie star quality so something must have sunk in. Did you have a favorite actor growing up?
I think Paul Newman did a lot. He is probably in more of my favorite movies than any other actor. He seemed to do just a run of movies that were all my favorites, yeah.
You were in Warren Beatty's film Rules Don't Apply, which came out this year. Growing up, were you conscious of his films?
Yeah, yeah. I'd seen Bonnie and Clyde, I was conscious of who he was. I'd seen, Reds, I'd seen Dick Tracy a lot as a kid.
What was your first meeting like?
I met with Warren when I was 19. It was, uh 2009. I was about to go to college. I'd been in my first movie and that was it and we met for four-and-a-half hours, five hours, and then I got to just get to ask him basically anything I ever wanted to know about movies, about all the people that he knew, about all his experiences and then I auditioned for the movie for five years, so over the course of that five years I got to just ask him everything I ever wanted to know.
So when did you actually start? 'Cause it was like a couple years ago, right?
Yeah. So we started shooting Rules Don't Apply, which was then called Untitled Warren Beatty Project until about a week ago. It was like four months. We rehearsed for two months at his house, and rehearsing is just – you basically go to his house and you sit in the kitchen and you talk, and then sometimes you read a scene or he would tell me and Lily Collins to go outside and read a scene together and then we would do that and then show it to him.
You and Lily have such lovely chemistry in the film. Did that work out over time?
I think that was the idea behind that rehearsal process is that you basically spend all this time together in this somewhat eccentric world that Warren lives in and then got to know each other in this kind of different way and really spent a lot of time together and ended up bonding a lot. Lily and myself and Matthew Broderick, too.
So does it all feel surreal that it's finally done, that it's a real movie?
Kind of, yeah. No, it definitely feels surreal that it really happened and I'm sort of proud of Warren, because a lot of people didn't think he would make it and he did, and it was really exciting to be there with him and be a part of his legacy and this movie that's has this kind of historic significance because he's been working on it for so long. Over the course of the five years that I was trying to get into this movie and wondering if I would get into the movie, I felt like it was the closest opportunity I would ever have to be a part of one of those movies of that, you know, old Hollywood, not only because it takes place in that time but also because it's the spirit of the movie that Warren wrote. And so I felt like this was the only chances I would ever get to really be able to do that, and then I ended up doing another old Hollywood movie right afterwards, actually, but yeah.
And what's the other old Hollywood movie?
Hail, Caesar!
Oh, that movie! Did you have to audition for that?
Yeah. Hail, Caesar! I asked if I could audition for it. I read the script, I liked it, I was told originally there was no role for me in the movie, that I wasn't right for anything and then I called and asked if I could read it and then I felt like I could play that part and I asked if I could come in and they said, "Well, just make a tape," and I said, "Can I come in, in person, maybe?" And they said, "Fine," and then I read for it and ended up reading for the Coen brothers and got the role.
Did you dress for the part?
No, I didn't. No.
You didn't wear a cowboy hat or anything?
No. No, I didn't wear a cowboy hat. I remember my first audition I ever did – or not my first because that was 13 Going on 30, but after I got an agent – I wore like a suit or something, because I didn't know. I thought that was what you did.
That is nice, very old school.
I don't do that anymore but, yeah, yeah.
II think I'm duty bound to ask you a Star Wars question. How did you audition for that?
For Star Wars? Oh, yeah. I auditioned for Star Wars for six months. It was on the Millennium Falcon and I read with Chewbacca and, I auditioned for it I think six different times. I was the first person I think to audition for it, 'cause I was going to Morocco to do a movie called The Yellow Birds so I went in early.
Did you watch Star Wars as a kid?
Yeah. Oh, yeah, big time.
And did you have a favorite Han Solo moment in Star Wars?
I think the end, when he comes in at the end is pretty exciting. I remember the thrill of that.
Adam Driver, Andrew Garfield, and Alden Ehrenreich Deliver Cher's Iconic 'Clueless' Speech