Julia Garner Is Still Holding Out Hope for the Madonna Biopic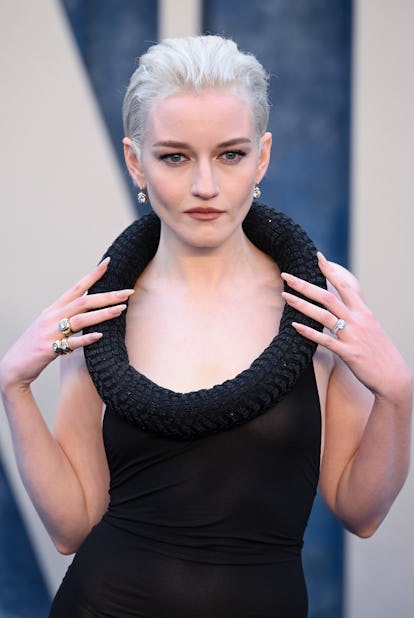 Karwai Tang/WireImage/Getty Images
Julia Garner is not giving up on the Madonna biopic and neither should you. The actress was just recently asked about the now defunct project, and she's clearly holding out hope that the film isn't completely dead and gone.
While on the Vanity Fair Oscars party red carpet on Sunday, Garner was asked by Entertainment Tonight if she's still hopeful that the project could one day come to fruition. "Yeah, yeah," she said with a cheeky smile. Unfortunately, Garner wasn't too willing to discuss the film, but she's seemingly remaining optimistic. "I don't want to tell too much. I want to keep things...," she said before getting cut off, but ended her message saying, "Fingers crossed."
It's not surprising that Garner isn't willing to give up on the movie given the reported audition process she had to go through in order to land the part. There were rumors that Garner competed against contemporaries like Florence Pugh, Alexa Demie, Sydney Sweeney, and Barbie Ferreira in acting workshops and intense choreography sessions. In the end, though, the role was eventually given to Garner, though it was never even confirmed if she accepted it, only that she was offered it. Her comments, now, though, make it seem like she was all in on the movie before it got shut down.
In the end, Madonna chose to go on a world tour instead of making the film, and the Celebration Tour, which kicks off in July and ends in December, means the singer is otherwise busy for the rest of the year. Of course, Madonna and the various screenwriters she worked with did produce a script which ostensibly still exists, though according to sources, Universal Pictures had issues with the story before Madonna killed it. Apparently, they wanted something "pop and light," while Madonna was going for something "grittier," leaving the two camps in a stalemate. Unsurprisingly, Madonna would "rather go to another studio than change the script," but she too is still holding out hope for the film and plans to revisit it after the tour. And if the demand for those shows (many of which sold out in minutes) proves anything, it's that the public is still very much invested in Madge.