Julia Roberts and Jennifer Aniston Are Swapping Bodies in a New Film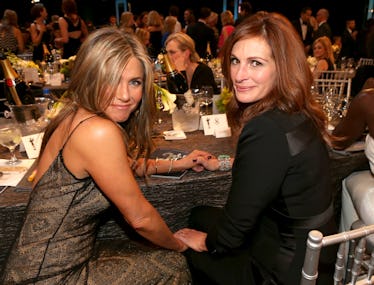 Christopher Polk/WireImage/Getty Images
We've been teased about the possibility of a Freaky Friday sequel for months, but as we were pining for Lindsay Lohan and Jamie Lee Curtis to return as a mother-daughter pair (which, by the way, Disney has yet to confirm, no matter how much Curtis and Lohan insist it's happening), another body-swap comedy has been green lit right under our noses. Icons Jennifer Aniston and Julia Roberts will be joining forces to star in a film from Palm Springs' Max Barbakow, and yes, bodies will be swapped.
As of now, not much is known about the project aside from the stars and the basic premise. While we don't have a title or a log line, thanks to Deadline, we do know Amazon won the film after a bidding war between various studios and streamers following Barbakow's pitch. This movie comes after the success of the Roberts' last film Ticket to Paradise, which grossed over $170 million worldwide. Likely, Amazon is trying to replicate that formula with another dual star comedy. Margot Robbie's production company, LuckyChap Entertainment, will produce the movie alongside Roberts's Red Om Films and Aniston's Echo Films. Coming off Palm Springs, a time-bending film about two wedding guests, we can likely expect another story that toes the line between science fiction and comedy from the writer and director.
This won't actually be the first time the stars have shared the screen together. Roberts was actually one of the first major celebrities to guest star on Friends. She dropped by as the character Susie "Underpants" Moss way back in the series' second season, but mostly shared scenes with Matthew Perry. Both actresses also starred in the 2016 movie Mother's Day, and back then, Aniston admitted she was nervous about the task of acting alongside Roberts. "I even flubbed in the first take and called her Julia," Aniston admitted to Entertainment Tonight at the film's premiere. Hopefully, this time around, Aniston will have the lines down, because thanks to the body swap concept, remembering who's playing who at any given moment is about to get a lot more complicated.