Kate Berlant Dares You to Perceive Her
The comedian's "anti-confessional" style is more revealing than it seems.
Written by Hannah Jackson
Photographs by Annie Powers
---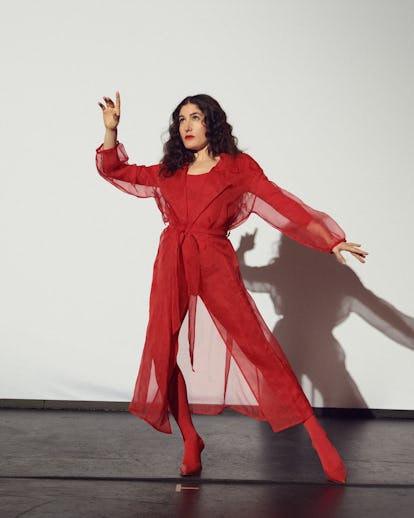 Kate Berlant wears Herno coat, stylist's own bodysuit, Manolo Blahnik shoes, Falke tights.
You know Kate Berlant. Maybe you're acquainted with her comedy specials Cinnamon in the Wind and Would It Kill You to Laugh?, or possibly her roles in A League of Their Own, Don't Worry Darling, and Once Upon A Time in Hollywood. Perhaps you recognize her scene-stealing stint on The Other Two, or, more recently, her off-Broadway one-woman show, Kate. Like a supernova, the 35-year-old comedian and actor appeared from seemingly out of nowhere, shining bright and white hot. It's easy to see how the kind of overnight celebrity — the meme-friendly one-liners, the cameo at Madonna's salon, the specter of drama hovering over one of her recent films — can be exhausting, even burdensome. Is the spotlight, I posit to Berlant during a recent Zoom call, hard to receive? "No!" she shouts blithely. "That's why I got into this game."
Berlant was practically born in the game, or at least adjacent to it. A native of Los Angeles, she is the only child in a family relatively untethered to the entertainment industry. Her father is a pop artist and her mother has worked in props, including fabricating the Stonehenge set from This Is Spinal Tap, which was enough to earn Berlant a spot on Vulture's buzzed-about "nepo baby" list. "I don't know if you saw, I guess I'm a certified nepo baby," she says. "It was pretty much a slip-n-slide to the top!" But she was close enough to showbiz to get bitten by the acting bug, and Berlant's sights on stardom were fixed from an early age. As a young teen, she and her friends were given the opportunity to audition for a blink-and-you-miss-it role on Lizzie McGuire, which Berlant nailed, surprising everyone, including herself. "Apparently I electrified the casting office," she says.
The artifice of set life can be off-putting, even for lifelong Angelenos. Berlant reminisces on the strange splendor of spending the day in the child actor's answer to school with Hilary Duff. "I mean, it's bizarre, it's like performing school," she says. The next day she returned to her real life — professionally Disneyfied, butterfly clips still in place — convinced that she was on the precipice of fame. Not long after she signed with a manager. "I remember thinking, 'I guess I'm about to be on the Disney Channel permanently,'" she recalls.
But childhood celebrity wasn't in the cards for a precocious Berlant, who was fired by her manager after her first audition for a part on That's So Raven went up in flames. Her losing streak continued when she performed a deleted Parker Posey monologue from Waiting for Guffman with a large plushie fish as a prop for a group of unimpressed agents. "I don't know why my mother or someone didn't discourage me from taking in the fish," she says. "Needless to say, no one signed me." Berlant acknowledges that the rejections should have been more bruising to her ego, though she has no real recollection of any emotional devastation. "Maybe it was so shattering that I blocked it out and it's actually a deep wound that I have to spend the next 30 years uncovering," she jests.
The psychic damage of childhood trauma is not far off from the heart of Berlant's show Kate, which recently finished an encore of its New York run at the Connelly Theater. Written by Berlant and directed by Bo Burnham, the production follows Berlant as an auto-fictional actress digging for a past trauma that will allow her to cry on camera. But in keeping with her idiosyncratic, often uncomfortable comedic stylings, Kate takes a mirror to the audience, forcing them to reckon with self-inquiry rather than allowing herself to become a projection of their own uncomfortable truths.
Despite the show's thesis of Berlant's traumatic mythos, she keeps the audience at arm's length, shielding her personal life from public consumption, choosing instead to make herself physically vulnerable via a live projection of her face which is broadcast on the stage wall. It's a departure from the zeitgeisty comedy that often requires performers to barter their innermost thoughts for laughs, something Berlant turns on its head. "My current show is a lot about anti-confession or resisting that trend," she says, though she adds it wasn't always intentional. "I never sought out to be devoutly anti-autobiographical in my work." Still, Berlant maintains that Kate is the most personal piece of work she has ever made, in spite of her self-preservation. "I've heard people be like, 'Well you don't talk about yourself, you don't really reveal yourself,'" she says. "That's really fascinating to me because it is intensely personal and vulnerable."
One place where Berlant is quite forthcoming is on her podcast, POOG, which she co-hosts with fellow comedian Jaqueline Novak. "POOG is the most revealing part of what I put out," Berlant admits. POOG gives listeners — whom she and Novak affectionately call "hags" — a glimpse into the hosts' lifestyles, which is often a direct reflection of who they are on an existential level. Wading in the murky boundary between life and advertising is human nature in a capitalistic society, something Berlant is keenly aware of. "All obsessions are to avoid a deeper, more uncomfortable truth. In POOG our obsession with products or treatments or anything like that is a distraction from being alone with ourselves," she says. But does that mean it's fruitless? "I think it would be a failed project to, out of an attempt to appear virtuous, pretend that I don't think happiness might linger in a new serum," she admits.
Berlant's fascination with self-perception and projection recently came to a head when she was isolated over Thanksgiving. This time spent waiting out a COVID exposure happened to coincide with a period of beauty (sponsored by regular gua sha) that only she bore witness to. "There was something sad about not being perceived in the most beautiful week of my life," she said on POOG. If a tree falls in a forest and nobody is around to hear it, does it really make a sound? If no one sees how hot we look, were we really hot in the first place? Pondering one of life's great quandaries, Berlant paraphrases the critic and artist John Berger, whose work Ways of Seeing introduced, among other things, the concept of the male gaze. "If we create ourselves to be ideally admired or perceived as beautiful, what does it mean to be alone in a room and authentically be beautiful for no one?" she asks. "People would say you're beautiful for yourself. But I don't think that's the answer. It's an interesting thing, beauty as being productive or beauty as something that needs to be optimized and needs to be for something."
Michael Kors Collection suit, Gucci shoes.
Perhaps, by invoking Berger, Berlant is offering another abstract view of her soul laid bare. In Ways of Seeing, Berger writes: "Men act and women appear. Men look at women. Women watch themselves being looked at. This determines not only most relations between men and women but also the relation of women to themselves. The surveyor of woman in herself is male: the surveyed is female. Thus she turns herself into an object of vision: a sight." To be a sight is, inherently, to be perceived. But for Berlant, that is where the fun begins.
Hair and makeup by Brittney Ward. Tailoring by Victoria Yee Howe. Special thanks to the Connelly Theater.