Justin Long & Kate Bosworth Confirm Their Engagement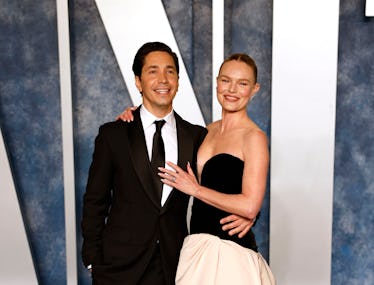 Robert Smith/Patrick McMullan/Getty Images
Justin Long and Kate Bosworth, your favorite unexpected but charming celebrity millennial couple, are officially engaged. A few weeks after reports around the couple's big next step started making rounds on the Internet, Long confirmed the news on his podcast, Life is Short With Justin Long. The actor invited his new fiancée onto the show to discuss the big proposal and why it happened sort of unexpectedly.
Long revealed that he actually had a plan to propose to Bosworth around her 40th birthday (on January 2nd), but a month before, he changed his mind. "Things change, and sometimes they change pretty drastically without any warnings," he said. "It was a moment where it just felt so organic and it felt connected to something very, very deeply, profoundly personal that we were going through, a real life change, and so it came out in a very organic way."
According to Bosworth, the two were going through a "really hard thing" and were working with a therapist at the time to move past it. "She gave us a really great piece of advice which was, 'Make sure that you're pretty consistently...asking the other what they need,'" the actress said. So, one day not too long after that therapy session, Bosworth said she woke up and asked Long, "What do you need?"
"He really looked at me and he said, 'To spend my life with you,'" Bosworth recalled. "I smiled and I said, 'Well, yeah, you have that. Oh my gosh, you have that,' and he said, 'No, I mean I really want to spend my life with you.'" Long jumped in, saying "It was the easiest…the words just came out, like, so naturally." Bosworth, meanwhile, loved the impromptu nature of the proposal. "I thought it was the most romantic and honest and loving proposal."
The couple originally sparked engagement rumors at the Vanity Fair Oscar party last month when Bosworth arrived with a diamond ring on her finger. The pair kept the news to themselves for a few months, but made the decision to finally talk about it on Long's podcast. Bosworth explained that they wanted to "talk about [the engagement] in a way that makes us feel the best," and in the end, it felt best when they talked about it with each other.
Long and Bosworth first met on the set of House of Darkness in 2021 and sparked dating rumors in March 2022 when they were spotted out together in Los Angeles. It wasn't until May that Long confirmed the relationship, telling Chelsea Handler on her podcast Dear Chelsea, "I've never had anything like this before. I've never experienced this," and naming Bosworth as his girlfriend for the first time. Bosworth then took to Instagram to confirm the relationship herself, sharing a set of photos with Long, including one with the actor holding her in his arms. "Holy moly @justinlong you are a truly spectacular / fun / funny / kind / rare / thoughtful / totally. fckn. rad human being," she wrote in the caption.