Katherine Langford Keeps Up With the News in Three Different Countries
In this Culture Diet, the Knives Out actress discusses her Oscars predictions, the books on her bedside table and how she follows politics in Australia, the U.S. and England.
---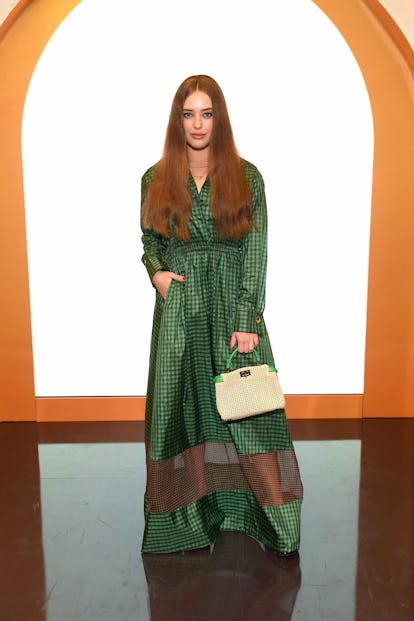 The actress Katherine Langford was in New York on Wednesday night, taking photos and videos of clothing on display inside the Fendi store on Madison Avenue. She ran her phone over the length of silk dresses and blouses, redoing whatever footage didn't fit her taste, feeling the material on a pair of slacks before moving on to a coat covered in the brand's "F" print. "I'm relatively new to the Fendi family," she explained. "But tonight feels extra special."
She was there for a party celebrating Silvia Fendi's first large-scale, unisex collection, "Solar Dream." Zendaya, Jacob Elordi, Katie Holmes, Miles Teller, Winnie Harlow, and many more crowded into the flagship, which was illuminated bright yellow, and decorated with flowery prints all over the walls. Langford, who's known for her role as Hannah Baker on the Netflix series Thirteen Reasons Why, and most recently played Meg Thrombey in the Golden Globe-nominated movie Knives Out, has a slate of upcoming projects, including a starring role on the TV series Cursed. Here, she discusses the books on her nightstand—including one that might hint at her next project—the last thing she does at night and how she keeps up with political news in the United States, Australia and the U.K. all at once.
I saw you met Bernie Sanders. What were the circumstances of that?
I was actually doing The Tonight Show With Jimmy Fallon before Knives Out came out here in New York. And Bernie was the guest before me. So before I had to go on stage—I was kind of getting whipped onstage—I wanted to meet him and he was super cool and we had a split second sort of interaction right before I had to go onstage.
What did you say to each other?
We just said, "Hello, really admire your work." The feeling was mutual.
Have you been keeping up with the Iowa caucus or have things been too busy during awards season?
I try and keep up with the news as much as I can, but that's becoming increasingly difficult. I'm originally from Australia, I've lived in America, and then last year, I lived in London. So I'm trying to keep up with what's happening in three different countries. I try my best, but I may not always be 100 percent on top of everything.
I don't think anyone is. Are you going to the Oscars?
Unfortunately, I'm not. I'm in New York for a couple of days, but then I have some work to do in Europe, so I've gotta fly back pretty quickly. But I'll definitely be watching it from home.
Is there a particular director you'd like to see win?
That's a tough one, because there are really great movies. I feel like if you make a film that resonates with people, you deserve to be acknowledged in any way, shape, or form. I don't have a personal one to win. I won't say more than that.
Is there a film you'd like to win for best picture?
Woah! These are tricky. You know why? It's going to sound ignorant, but it's not willfully ignorant and it touches on what I said before about moving around: I haven't seen all of them, and I never want to make an opinion about something if I haven't seen all the films. So I'll see all of them and then I'll get back to you on that one.
What are the books currently on your bedside table?
Okay, so I've got a couple. I've got my all-time favorite which is Lights Out in Wonderland by DBC Pierre, I have an autobiography of a woman who was in World War II who I love.
Who is the woman from World War II?
I…I might want to keep it a secret.
You're playing coy.
I just feel like I can't say anything.
Is it, maybe, something you're working on?
I don't know. Let's just say, I love autobiographies. [Laughs]. Oh, and I have Her Again by Meryl Streep.
Who's a director you're interested in working with?
I just finished working with Ryan Johnson and I really loved working with him. I think he's incredible. Also, John East, who was on Cursed, which was a show I just did. I need to put in there: Quentin Tarantino. Because I think he's done amazing things and that would be cool.
What's the last thing you do before bed?
Call my best friend. I FaceTime my best friends before I go to sleep.
What's the first thing you do when you wake up in the morning?
Drink water.
What's the last concert you went to?
My friend Dylan Minnette's band, Wallows.
What's the last movie that you saw in theaters?
Knives Out.
What podcasts are you listening to?
I like Russell Brand's, "Under the Skin."