Kelela Used Fashion to Break Down Social Barriers in Her High School
The musician's style evades genre almost as much as her complex sound is unable to be placed in a singular box.
---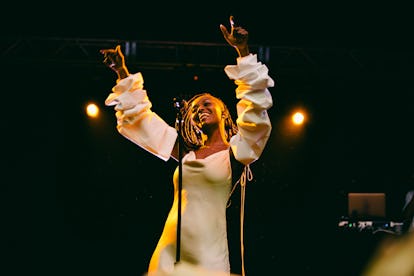 Sam Keeler
Kelela is known to turn heads, whether she's hitting high notes on stage or attending the CFDA awards with Telfar. When she took the stage on Saturday at the 2018 Pitchfork Music Festival, all eyes went to the R&B singer's all-white ensemble, specifically her ruffled sleeves and patent-leather boots. Kelela's sound, with its pop culture references and futuristic tropes, is not easily categorized, and the same could be said of her eclectic style.
Over the weekend, Kelela revealed to W how she achieved her festival look, why her friends encourage her to be as extra as possible, and why she's always been "neither here nor there" when it comes to presenting an aesthetic to the world.
What were you wearing yesterday, and why did you decide to wear it?
The sleeves are Micol Ragni, a London-based Italian designer. My trusty Tabis—I have a pair of white patent Margiela Tabi boots, and they just work every time.
Did you prepare for the rain at all?
I didn't. The stages are usually covered, so it's rare that I have to dress for the rain onstage. It's more about being cold and there being a lot of wind. Those are the two factors, usually, that I'm worried about. I was a little frazzled because I wanted to attach the sleeves to the dress. The sleeves actually go with another dress, and I'm just obsessed with the sleeves. I tried to put them onto this dress without damaging it, and they just wouldn't stay up, so I just wore them anyway. People were like, "How are they sticking?" It was perfect because the material is reflective so it just works perfectly with sweat. They just stayed on.
Describe your style in three words:
It's three phrases, but I would say: round-the-way; there's some element that's familiar; otherworldly. There's also always something that feels iconic or outside of regular life. And then, I think that there's always been—it's an aspiration, elegance. That's really just, like, the Sade factor, you know? I don't know what that actually is, but there's something familiar in every outfit, whether it's a Bo Peep moment, you know? We did that for Coachella. Something that feels familiar or classic. Something you can get easily, and then some otherworldly element that feels from outer space, and then trying to pull those things together in an elegant way.
Who is your ultimate style icon, and why?
That's a tough one because I guess, for me, as an artist, it's been hard to nail in a singular fashion what I am or what I'm doing. It's always been really hard for me to talk about my style in a few terms. That's because there's a part of me that feels very much, like, you know, round-the-way, and another part that feels very much, like, I'm not your friend. [Laughs] You know what I mean? So there are these two things happening at the same time. When it comes to style icons, it's like I'm pulling from different people for those parts. So when I think about Missy Elliott, she's somebody who, I don't know, treads that line pretty seamlessly and effortlessly. Especially for the stage, and production-wise. It's just the way that the outfit feels like, Oh, it's a jumpsuit—but then it's also like, But it's got leather and it's a trash bag! There are other things that just don't feel familiar. If I had to choose one, it would be Missy Elliott. Missy and Sade, probably. There are so many.
Best fashion advice you ever received?
Hmmm. Fashion advice? I haven't really gotten a lot of fashion advice. I guess there's the regular sort of banter of, like, "Please do that. Be extra." So there's that, the invitation from my friends to just do the most. Don't do the least. Don't be subtle.
Most prized possession in your closet?
I have these Paoli mules. I'm not really familiar with Paoli, but these Italian mules that my creative director and stylist, Mischa Notcutt, found on eBay. She's a master eBay-er. They're teal and black snakeskin, and they're mules, and they have a square toe. I thought I lost them, like, four years ago. I left them in a hotel. I called, and my assistant found them, and I'm so happy that I did it, and I realized I would have cried. I mean, not really, but you know, I would've been really bummed! I think that's my favorite thing, even though they're probably the cheapest shoes, but I'm obsessed.
First major fashion purchase?
I remember what it was! Oh, my god! It was this Tommy Hilfiger sweatshirt that was navy blue and it had a huge red star on the front. In lowercase embroidered, thick Tommy font, it said "Tommy Jeans," with the "Tommy" on top of the star and "Jeans" underneath. It was $60, I remember. In middle school, $60 was f–king—you were carrying when you asked your parents to buy you a $60 sweatshirt. It was insane, and I remember going into Heck's. F–king Heck's! My dad bought me this sweatshirt, and I just couldn't deal. I remember, also, there was a thing where you go to school on Monday, and Monday is stunt day. Basically, like, I got the new Jordans on Saturday, when they came out, I waited in line. Whatever you're stunting on, you're definitely bringing it on Monday, but I had a thing where I'd be like, Everybody's bringing out their shit on Monday, I'm gonna bring out my style on Tuesday and really stunt on these fools because they used up all their coin. So I would plan a cute outfit for Monday and be fine, and then I would just f–k everybody up on Tuesday, when nobody had any new shit. [Laughs]
What was your style like as a teenager?
When I was a teenager, I was really trying to, I don't know, I guess I was trying to express that I was neither here nor there with any particular thing. In my school, just like any American high school, it was pretty segregated. It was diverse, but still segregated. Like, black style, upper-middle-class white people style, cholo style. There were different ones, and everyone was doing them really hard, you know, because they needed to sort of express their allegiance. And I just was really into dismantling that. So I'd wear Parasuco jeans, which was, like, strictly black, or Sergio Valente jeans. In my school, that was very black shit, with, like, an American Eagle shirt or Abercrombie shirt. [Laughs] And some Vans. People would just be like, "What's actually really going on right now?" So I guess I was just really obsessed with pulling things apart and making you confused, making you be like, "Where do you stand?" Because I didn't want to stand anywhere.
Do you have any fashion regrets?
No, to be honest. All those phases you go through, at least for me, it's like, I had to do that, I had to explore that. I had to do it wrong to get it right. I had to be sloppy a little bit to get tight.
Favorite red-carpet outfit you've ever worn?
CFDA Telfar. He made a fake thong! He sewed a fake thong into the side so that it would come out perfectly. [Laughs] It's really just so brilliant. Everybody thinks it is an actual thong, but it's just a piece of string on the side.
Favorite fashion moment from pop culture?
When Solange wore the do-rag to the Met Gala. The do-rag with the slo-mo video did it.
What is always in your bag?
I always keep a pair of gold earrings and a pair of silver earrings. That's my thing that I've been doing lately, and it's been helping me so much because I have to take my jewelry out a lot. I'm really bad, I'll forget jewelry. So I'll put the jewelry back in my little pocketbook, my zippy purse. And then I always have jewelry for every outfit! Telfar studs, they come in gold and silver.
Song to listen to when getting ready?
There's this album that my friend Lirik, who DJs in the band, was playing for a while. It's Midori Takada, Through the Looking Glass. It's just a full record. It's great before a show. It has a good rise, it crescendos as it flows. It's great to do makeup to!
Where are you traveling right now?
I'm gonna go to Berlin! To go visit my crush. I'm very excited about it, it's a good summer vibe. They're good at summer.
Related: Pitchfork's Most Stylish Attendees Explain How to Dress for a Music Fest