Kim Kardashian Has Moved on From Marilyn Monroe to Princess Diana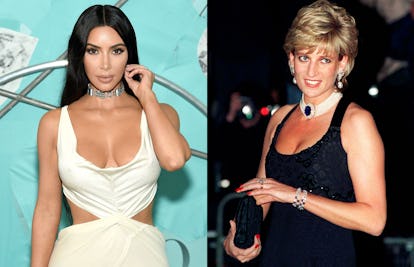 Getty Images
Kim Kardashian is amassing an archive of historical celebrity memorabilia whether you like it or not, and it seems like most people very much do not like it. First, there was Michael Jackson's "Smooth Criminal" hat. Then, following the Met Gala saga, Kardashian became the proud owner of a lock of Marilyn Monroe's hair. And now according to TMZ, she has a new piece to add to her collection, a necklace once worn by Princess Diana. We know the Kardashians have been called America's royal family, but owning Di's jewelry isn't going to make that statement anymore accurate, Kim.
On Wednesday, it was revealed that Kardashian bid on and won an amethyst and diamond cross-shaped necklace from the former Crown Jewellers, Garrard. The piece, known as the Attalah Cross, was part of Sotheby's Royal and Noble auction and was most recently owned by late British businessman Naim Attallah the former managing director and group chief executive of the jewelry brand. Diana had a close relationship with Garrard and, in 1987, they lent her the necklace to wear with a purple and black velvet Catherine Walker & Co for a charity event hosted by the company. According to Sotheby's, Diana had a "particular fondness for" the piece and wore it on several other occasions. Until now, the piece had not been seen publicly following the princess' death
Kardashian loves a good cross almost as much as she loves owning historically significant accessories, so the purchase fits right in her wheel house. The reality star purchased the necklace for $197,453, a steal compared to the Cartier watch previously owned by Jackie O that she allegedly bought back in 2017 for almost $400,000.
At this point, Kardashian may be planning her own Ripley's-esque museum because she has enough objects to fill one up. Or, like Michael Jackson's hat, the necklace will be a gift to another one of her children. Whatever her plan for it, the Twitterverse is responding to the purchase negatively, to no one's surprise. But this likely won't stop the reality star from snatching up everything she has her eye on. In fact, one of the late Princess' dresses is going up for sale at Sotheby's later this month and the silk velvet Victor Edelstein-designed strapless gown's aubergine hue would go quite nicely with Kardashian's new necklace...It's not out of the question to assume she may be shopping for the next Met Gala in May.