Kristen Stewart Is Making a Movie With Her Ex-Boyfriend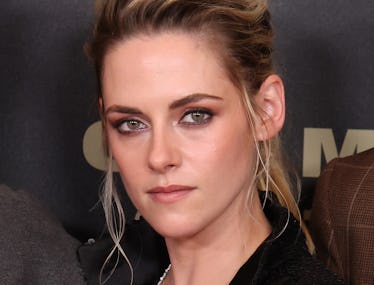 Taylor Hill/FilmMagic/Getty Images
Kristen Stewart's next project will co-star her ex-boyfriend, though probably not the one you're thinking of. Stewart will join Michael Angarano, whom she dated before her Twilight fame, in road-trip comedy Sacramento. The film will also star Michael Cera and Maya Erskine (Pen15), who is engaged to Angarano.
Angarano, known for his work on This Is Us and Will & Grace, is directing the feature, which he also co-wrote with Chris Smith. Per a logline, the film, follows Rickey (Angarano), an energetic and free-spirited young man, and Glenn (Cera), his long-time friend who's settled into domestic life. On an impromptu road trip from Los Angeles to Sacramento, their past comes into focus and questions their future. Erskine will play Rickey's wife, Tallie, and Stewart is Glenn's wife, Rosie.
Stewart and Angarano met on the set of 2004 teen drama Speak. They reportedly dated until 2009, when Stewart and Robert Pattinson were first officially linked together following the release of the second Twilight movie. Twilight director Catherine Hardwicke, who had also directed Angarano in her 2005 film about the birth of skateboarding, Lords of Dogtown, said in 2012 of Angarano, "He's a wonderful actor. He was in Dogtown, one of my favorites, so I felt pretty bad because I love him and they were such a great couple."
But it's clearly ancient history. Sacramento is set to begin shooting this spring. Angarano told Deadline, "We feel grateful and very excited to make a movie like Sacramento. Chris Smith and I started writing this film years ago, after a pilot of ours didn't get picked up. We're honored to be working with this wildly talented cast and crew led by Stephen at Bee-Hive who is not only a great partner, but a true collaborator. It's already been quite a journey but we're finally ready to go make a movie."
The cast is all booked and busy; Angarano will also play Robert Serber, "the intellectual midwife at the birth of the atomic bomb", in Christopher Nolan's Oppenheimer, and will star in Kevin Costner's western Horizon: An American Saga. Stewart, meanwhile, just wrapped filming on A24 thriller Love Lies Bleeding and is currently prepping for her role as American intellectual and writer Susan Sontag in Sontag. Cera is currently starring opposite Amy Schumer in Hulu's Life & Beth, and will also be in the heavily stacked Barbie cast. Erskine is in the midst of adapting Leila Slimani's novel The Perfect Family for HBO, which she'll star in alongside Nicole Kidman, in addition to filming Prime Video's Mr. and Mrs. Smith series reboot opposite Donald Glover.