Kristen Stewart, a True Punk, Wore a Braided Rattail to Cannes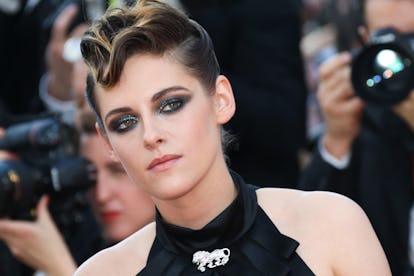 Tony Barson/FilmMagic
There is truly no hairstyle that Kristen Stewart can't pull off, not even a rattail. What's more surprising than the fact that the actress opted to try out the '80s style, though, may be the fact that she chose to do so at Cannes, one of the most photographed red carpets of the year. Then again, Stewart, a true punk, has never been one to conform to anyone else's standards.
Stewart, who's at Cannes as a member of the film festival jury that selects the best flick of the year, debuted her braided rattail yesterday. And what does one wear with such a 'do? For her, a Chanel blue tweed suit and backpack. The front of her hair was pinned up in curls, distracting attention away from the rattail in the back.
Just in case no one saw it, though, Stewart wore it once again when taking the red carpet in a flowing and frilly black gown with her hair similarly styled up.
While just the name rattail is something to wince at, Stewart's take on it will make you rethink everything you know about look.
It's also an extraordinary follow-up to her bold beauty look last year: a platinum blond buzzed head, which Zoë Kravitz and Katy Perry also championed in 2017. At this point, radical hair transformations have become Stewart's signature, and for good reason: She actively doesn't adhere to the red carpet's obsolete beauty ideals.
"I like doing something cool on the red carpet," she told Byrdie back in 2014. "So many people go for pretty—and that's pretty boring." At the time, she also revealed her style icons: "Take Patti Smith and add in a little Brigitte Bardot to up the sex factor."
Last year, she went as far as to speak out against Cannes's dated and sexist dress code, telling The Hollywood Reporter, "There's definitely a distinct dress code, right. People get very upset if you don't wear heels, but I feel that you can't ask people that anymore. It's just a given. If you're not asking guys to wear heels and a dress, you can't ask me either." As it turns out, you can't ask her how to wear her hair (or how not to) either.
Kristen Stewart's Hair Evolution, from Gothic Glamour to Blonde Buzz-Cut
Kristen Stewart received critical acclaim for her role in "Into The Wild," and stellar marks for her beauty look at the premiere in 2007.

FilmMagic
Rocking tousled locks, rosy cheeks and a subtle smoky eye, Stewart looked fresh and youthful in 2008.

Getty Images
Attending the screening of the 'The Twilight Saga: Eclipse' in New York City, Stewart wire her golden brown locks in a tousled boho braid with a red smoky eye and a nude lip.

WireImage
At the "The Twilight Saga: Breaking Dawn – Part 2" premiere, Stewart was a vision of romance with big soft curls, a light golden eye and a red lip.

WireImage
Attending the Costume Institute Gala in New York City, Stewart let her bold purple eye makeup shine by pulling back her brown hair and keeping the rest of her makeup neutral.

FilmMagic
Stewart looked like a rockstar at the premiere of Still Alice in 2014 with an edgy haircut and frosted blue eyeshadow.

FilmMagic
A messy low ponytail perfectly complimented Stewart's dramatic black winged smoky eye at the premiere of American Ultra in 2015.

FilmMagic
At the New York Film Festival premiere of her latest film, Billy Lynn's Long Halftime Walk, Stewart wore her bleach blonde hair in a short cut that showed off her playful pink makeup.

Getty Images
Attending the Film Independent at LACMA screening of her new film Personal Shopper, Stewart paired her chic black eyewear with a dark smoky eye and red lip while keeping her brunette pixie slicked back. (2017)

Photo by Getty.
A daring new look for Stewart, the actress debuts her freshly buzzed platinum blonde hair at the IFC Films Personal Shopper premiere in Los Angeles in 2017.

Photo by Getty.
Just before the 2018 Oscars, Stewart debuted a mullet.

Getty Images
Kristen Stewart and her mini rattail attended a photocall at the 71st annual Cannes Film Festival at Palais des Festivals on May 8, 2018.

Getty Images
Kristen Stewart's take on a rockabilly quiff was front and center at a screening for *Knife + Heart (Un Couteau dans le Coeur) at the 71st Cannes Film Festival on May 17, 2018.

Getty Images
Kristen Stewart's dirty blonde coif was on display at the Chanel show as part of the Paris Fashion Week Womenswear Fall/Winter 2019/2020 on March 05, 2019 in Paris, France.

Getty Images
Kristen Stewart's fiery tips and bleached brows shocked the crowd at the 2019 Met Gala celebrating "Camp: Notes on Fashion" at The Metropolitan Museum of Art in New York City.

Getty Images
Kristen Stewart wore a slicked back pink pompadour fastened with black barrettes during the 45th Deauville American Film Festival on September 13, 2019 in Deauville, France.

Getty Images
Kristen Stewart is still growing out her formerly blonde pixie now that Charlie's Angels is in theaters.

Getty Images