Lady Gaga and Metallica Will Duet at Grammys, Because Apparently Someone Asked For That
Lady Gaga and Metallica will duet at the Grammys, because we guess that's what people want. Even though Beyoncé will be there as well.
---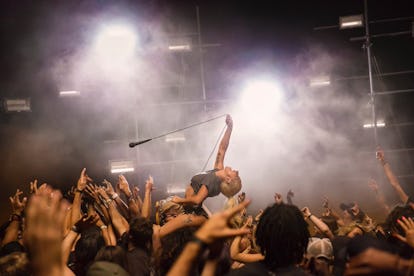 What does the world desperately want? At least one live joint performance of Lady Gaga and Beyoncé's "Telephone?" What does the world keep getting? Lady Gaga doing literally everything but.
Lady Gaga jumping off a football stadium roof? Sure. Lady Gaga performing a David Bowie with Nile Rogers? It's happened. Lady Gaga making a full album and going on tour with Tony Bennett? It was a thing. Lady Gaga teaming with the Muppets, RuPaul and Joseph Gordon-Levitt for a Christmas special? It happened. Lady Gaga singing a Yoko Ono song with Yoko Ono? There's video footage of it.
Now for Lady Gaga's latest odd team up she'll perform with Metallica, of all bands, at the Grammys. Rolling Stone confirms not only that this is happening but that someone thought this was something America needed in the first place. Metallica is up for Best Rock Song, while Gaga's Joanne was released after the eligibility date so she's not up for anything.
So, why exactly is this happening?
While Gaga reminded everyone she's a pop princess of the highest order at her Super Bowl halftime show, her latest album has more of a rock & roll edge. So, for her purposes, we guess it makes sense.
We'd say that maybe this might be some attempt to heal and unite the nation through music. While Gaga's fans predictably lean left, Metallica in and of themselves are already one of the most bipartisan-ly beloved bands (at least according to Facebook data).
Maybe someone at the Grammy's just wanted a chance for her sensitive Drama Club president son and her football captain son to have a shared moment of bonding? They use to be so close, you know. She doesn't know what happened.
Then, naturally, there's the question of what exactly they'll be performing. A hard rock version of "Bad Romance?" A dance-pop take on "Enter Sandman?" Gaga singing the Marianne Faithfull part in "The Memory Remains?" Metallica lead singer James Hetfield filling in for R. Kelly on "Do What U want?" We'll have to wait to see. Though, not as long as we have to wait for that Gaga-Beyoncé duet, which is a shame, because (a pregnant) Beyoncé is reportedly scheduled to perform at the Grammys that night as well.
Maybe one day, far in the future, we'll finally get it. Maybe after Gaga does a duet with a hologram of The Notorious B.I.G. at the Oscars, teams with the Mormon Tabernacle Choir at the NBA All-Star Game, does a collaboration album with noise artist Merzbow, and pulls off a joint world tour with Dolly Parton and the Spice Girls, she'll remember to finally try to make sure that "Telephone" performance actually happens.
Then, after Beyoncé announces her next pregnancy with quintuplets via an emergency broadcasting alert on every single television channel, releases a new surprise album every single day for a week, finally does that joint album with Jay-Z, and revives Destiny's Child for a Las Vegas residency, she'll have time to accept.
Maybe they'll even perform "Videophone" too, although, we could all probably wait a bit longer for that one. No rush.
Watch W's Most Popular Videos: