Why Lady Gaga Isn't Performing at the Oscars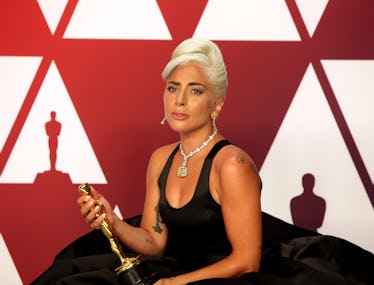 WWD/Penske Media/Getty Images
Update: As it turns out, Gaga made the last minute decision to perform the song on the Academy Awards telecast. The original post continues below.
Don't hold your breath for a "Hold My Hand" performance at the 95th Annual Academy Awards. Lady Gaga will not be singing her Top Gun: Maverick theme despite its nomination in the Best Original Song category. In fact, Gaga's song will be the only one in the category not performed live this year. It's not a snub, though. Gaga wanted it that way.
"We invited all five nominees. We have a great relationship with Lady Gaga and her camp," producer Glenn Weiss told Variety. "She is in the middle of shooting a movie right now. Here, we are honoring the movie industry and what it takes to make a movie after a bunch of back and forth…It didn't feel like she can get a performance to the caliber that we're used to with her and that she is used to. So, she is not going to perform on the show."
According to Entertainment Weekly, Gaga will be attending as a nominee—so at least we'll get a red carpet moment. (Even that didn't seem like it was guarenteed.)
"Hold My Hand" has been nominated for multiple awards this season, including the equivalent categories at both the Golden Globes and the Grammys. Gaga, however, skipped out on both awards shows—a stark contrast to her earlier awards promotion efforts for A Star is Born and House of Gucci.
Instead, Gaga has spent much of 2023 so far pouring her efforts into playing Harley Quinn in the upcoming Joker: Folie à Deux. If the Gucci press tour taught us anything, it's that Gaga certainly puts a lot of work into her roles. (She once claimed she "lived" as her character Patrizia Reggiani for more than a year.) Quinn, one of DC comic's most popular female characters, already requires months of research and rehearsal for any actress to avoid veering on cartoon-ish, but perhaps even more so for Gaga. Her version will reportedly also draw inspiration from Liza Minnelli. We're sure she's in a headspace that's hard to break out of, just to perform her military industrial complex romance ballad.
But pop music fans will still have something to look forward to. Rihanna, fresh off both a Super Bowl performance and a pregnancy announcement, will be singing her nominated track, "Lift Me Up."
Sofia Carson will also be performing the Diane Warren-penned track "Applause" (no relation to Gaga's hit). Rahul Sipligunj and Kaala Bhairava will perform RRR's "Naatu Naatu" (which won the award at the Globes). Everything Everywhere All at Once's Stephanie Hsu will be joined by Son Lux and David Byrne to perform "This Is a Life." Finally, Lenny Kravitz will be performing during the show's "In Memoriam" segment.
Gaga has previously won the award for her song "Shallow." Little is known about the original music accompanying her Joker sequel, but it's very possible she could also return to the category as soon as 2024. The film will be released on October 4th of that year.
In the meantime, you can enjoy her very memorable performance of "Shallow" alongside Bradley Cooper from 2019.