Lana Del Rey is Reportedly Engaged to Music Manager Evan Winiker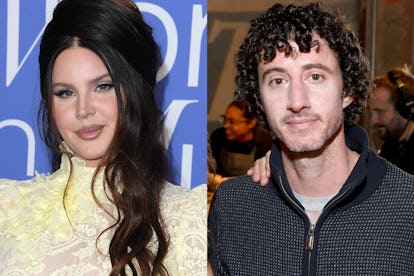 Steve Granitz/FilmMagic/Matt Winkelmeyer/Variety via Getty Images
Apparently, Lana Del Rey has more than a new album to celebrate. Just days after the debut of her ninth album, Did You Know That There's a Tunnel Under Ocean Blvd, Billboard reported that the singer is engaged.
So who is this man who has allegedly captured Del Rey's heart? His name is Evan Winiker, he's a talent manager and managing partner at Range Media Partners, and his clients include MAX, Daya, and Disco Biscuits. He also happens to be a musician himself, and he previously played bass for the band Steel Train, which included Jack Antonoff, one of Del Rey's frequent producers and collaborators. Most recently, Antonoff worked with the singer on Ocean Blvd.
It's unclear how long Del Rey and Winiker have been dating. The duo has been spotted together in public a couple of times over the past few months, including at the Malibu Chili Cook-Off festival back in September, but for the most part, they've kept their relationship under wraps. Del Rey did attend the Billboard Women in Music event earlier this month with a diamond ring on her finger, but as of now, neither Del Rey nor Winiker have confirmed the engagement.
If it is true, that makes some of Del Rey's recent promotional stunts stand out. Back in December, not long after announcing the release of her ninth album, the singer put up one singular billboard to commemorate the project—in Tulsa, Oklahoma. It might seem like a random location, but that just so happens to be where her ex, Sean "Sticks" Larkin, lives. "It's. Personal." Del Rey commented on the post where she shared her scheme. Clearly, Del Rey wanted Larkin to know about the Ocean Blvd, and it seems likely that he got the memo. As for what Winiker thought about the whole scenario is unclear, but it seems like at the point, Del Rey has fully moved on.