Lovie Simone Wants The Craft: Legacy To Be for "The Modern Weirdos"
Lovie Simone talks about starring in the sequel to a cult classic, manifesting her career, and building a bond of sisterhood on set of The Craft: Legacy.
---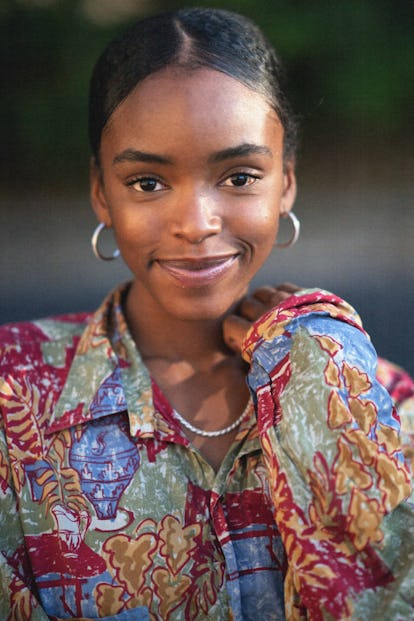 Lovie Simone photographed by Eli Joshua
Lovie Simone believes she may have "manifested" her latest role as a teen witch in a coven in The Craft: Legacy. "When I was eight or nine years old, before I really got into the industry, I used to just act in slow motion in front of my mirror and pretend to be at awards shows," the 21-year-old actress told W over the phone. "I would do monologues in my room, and I would love to cry, and I've always been dramatic. It's always been in the cards for me."
In Zoe Lister-Jones's follow-up to the 1996 cult classic, Simone plays Tabby, a young witch who welcomes newcomer Lily (Cailee Spaeny) into her coven, alongside fellow teen witches Lourdes (Zoey Luna) and Frankie (Gideon Adlon). The Craft: Legacy is a very of-the-moment sequel to the '90s original, commenting on the friction between hyper-masculinity and "woke" culture and the sisterhood bond formed between high school girls. And that's exactly what drew Simone—who starred as Zora on five seasons of Greenleaf, the Oprah Winfrey Network megachurch drama series and was the lead role in Amazon Prime's acclaimed boarding school dramedy film Selah and the Spades—to the role of Tabby in the movie.
"Right before I got the part I had a director's FaceTime with Zoe Lister-Jones. We were talking about not even just my character, but the world of The Craft," Simone explained. "Where Zoe wanted to go with the storyline for each of the characters and what she wanted to touch on. We did talk about hyper-masculinity, witch stigmas, trans people, and Black witches and all of the other stuff that you see." For Simone, it didn't take too much for her to tap into her character "because she is another typical high school girl that we've all been or seen," she said. "She just happens to be a witch, and she happens to have a split personality between the masculine and the feminine, and I feel like I also have that within me in life on the regular. It was pretty easy for me once meeting the girls to create a bond and friendship and go from there."
On set, Simone experienced a bond with her coven unlike any other, which she chalks up to the fact that they had rituals outside of the confines of a movie set, like making dinner together and going to see FKA Twigs in concert. "I think having The Craft be the reason why we were together and everything that it stood for definitely helped build a beautiful friendship and sisterhood between us all," she said.
Simone explained that a major difference between The Craft and The Craft: Legacy is that in this sequel, the real horror is found in how people of marginalized identities are oppressed. An example she cites is that Lourdes, a fellow witch, is trans, but it's not all that she is identified as in the film. The specificity of her gender is mentioned in passing, but it's not that big of a deal to her friends. Other characters state their sexual identities, but discover they are in a safe space to do so without judgment, and while it moves the story forward, it's not the central focus of the film. "It was nice to see all of those pieces be put together and also have it be natural and authentic to each person," Simone explained.
Simone also revealed that while filming The Craft: Legacy, there were spiritual guides and actual witches on set to teach the cast how to respectfully engage in séances and other spells for the movie. "I did learn tips on how to go about rituals, and that we shouldn't say certain names when performing them," she said. "I was kind of already on my way into the witchcraft world without knowing it was witchcraft, because it's stigmatized. You wouldn't think that you could incorporate witchcraft in your day-to-day life, but I had more of an awakening in that sense, like: 'I've already been walking in this direction.'"
"I think everybody who watched The Craft for the first time has that moment when they fall in love with it and right after that, you realize there's an army of people like you who loved it, and that's when I got hitched to The Craft fanbase and fans saying it changed their lives when they were teenagers," Simone said. "I would love to have that for the girls now, to have a Craft for the modern witches and the modern weirdos."
Related: The Craft: Legacy Trailer: They're Still the Weirdos, Mister