20 Top Artists Reimagine Manet's Le Déjeuner sur l'herbe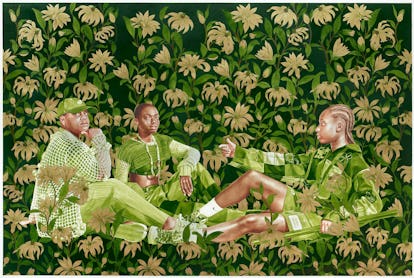 An interpretation of "Le déjeuner sur l'herbe" by Kehinde Wiley. Courtesy of the artist.
Édouard Manet never intended to shock the bourgeoisie when he exhibited what's now widely considered the world's first modern painting: Le déjeuner sur l'herbe. Nevertheless, his depiction of an afternoon picnic featuring (gasp!) a naked woman staring directly at the viewer made so many waves that it only took two years after the French artist controversially exhibited it at Paris's Salon des Refusés for his peers to start riffing on it. It was still so influential nearly a century later that Pablo Picasso followed suit. Now, a full 159 years later, so have more than 30 of today's top painters. Jeff Koons already paid homage to the painting in 2014, but most of the works featured in "Luncheon on the Grass," which is on view at Jeffrey Deitch's Los Angeles outpost through April 23, 2022, were created specifically for the exhibition—and some interpretations are most definitely more recognizable than others. From Kehinde Wiley, Naudline Pierre, and Mickalene Thomas's reimaginings of the scene with Black subjects to Tala Madani's portrait of a single brown pickle, take a look inside the show, here.