Madonna's Most Iconic Performance Costumes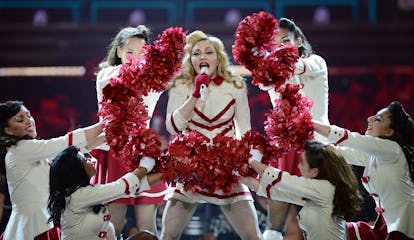 Larry Marano
Madonna has done a lot, but she's never done a greatest hits tour. Until now. This summer, the crowned Queen of Pop will hit the road with The Celebration Tour, her first arena show not directly tied to an album, but instead encompassing her entire career.
Over her four decade career, the singer has transformed herself time and time again. In her early days, Madonna was best known for her uber '80s ensembles, complete with teased hair and oversized denim. From there, she experimented with lingerie-as-outerwear, buttoned-up menswear, and just about everything in between. And then there are the on-stage theatrics: larger-than-life crosses, working cars, and the occasional yoga routine. Perhaps, while revisiting her past hits, she'll also be tempted to revisit some of her most memorable costumes, too.
Here, in honor of the upcoming tour, a look back at the singer's most iconic on-stage fashion moments.
This article was originally published on