Madonna Does "Bloody Mary" Dance, Confirms There's No More Bad Blood With Gaga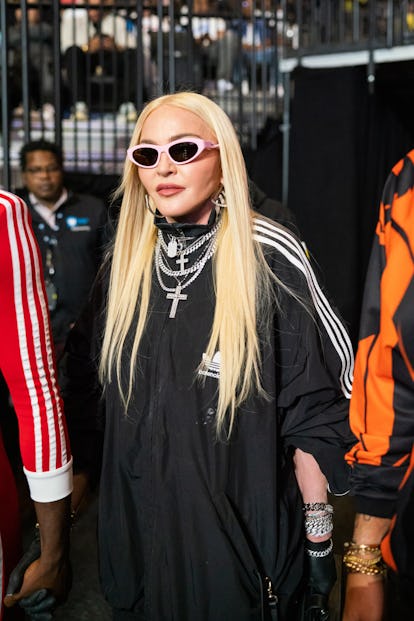 Cassy Athena/Getty Images Sport/Getty Images
Madonna doesn't usually follow in the footsteps of other pop stars, but lately the star can't help but join in on a TikTok craze. On Wednesday, the singer shared a video dancing to Lady Gaga's viral "Bloody Mary" on the short form video app, in the process reconfirming that her old feud with Gaga is decidedly in the past.
In the video, Madonna stands in the doorway of what looks to be her bathroom, wearing black trousers, a black lace bustier-style top, and a black bolero. As the beat drops on the song, Madonna starts dancing, though not the choreographed routine inspired by Netflix's Wednesday that has gotten popular on TikTok, but her own take on the dance clearly inspired by the other videos and the show.
Now, many have engaged in this trend, but Madonna's participation is especially notable. One, because she's Madonna, making most of the things she does notable, but also because of that 2011-era feud with Gaga. Ever since Gaga came onto the scene people have compared her to Madonna, and when Madonna called Gaga's 2011 hit "Born This Way" "reductive," it solidified the tension between the two. Throughout the years, both artists spoke about each other in the media, with Madonna clarifying in a 2015 Rolling Stone interview, that the only time she ever criticized Gaga was when the singer "blatantly ripped off" her song. "It's got nothing to do with 'she's taking my crown' or 'she's in some space of mine,'" Madonna said. "She has her thing. I do think she's a very talented singer and songwriter. It was just that one issue."
In 2017, Gaga acknowledged the feud in her Netflix documentary, Five Foot Two, harkening back to those original comments Madonna made about "Born This Way." Gaga expressed that if she has an issue with someone, she tells them to their face, but Madonna wouldn't do the same. "She wouldn't look me in the eye and tell me that I was reductive or whatever," Gaga said. "Telling me you think I'm a piece of shit through the media? It's like a guy passing me a note through his friend." Gaga insisted that she still has love for Madonna, however. "I still admire her, no matter what she might think of me. I just want Madonna to push me up against the wall and kiss me and tell me I'm a piece of shit."
In recent years, though, things have seemingly cooled off between the two. Following the 2019 Oscars where Gaga took home her first Academy Award for "Shallow," she attended Madonna's after party. There, the artists snapped a pic embracing each other in a very loving way. When Madonna announced The Celebration Tour last month, Gaga was right there to support her, commenting, "We love you M" on her TikTok. It's possible then, that Madonna doing the "Bloody Mary" dance wasn't jumping on the bandwagon at all, but Madonna simply reciprocating her support for Gaga, proving the feud truly is over. Or, Madonna just heard the song on TikTok and wanted to join in on the fun. She seems to have taken to the platform. Her own music even had its own random viral moment on the app after a sped-up version of her old studio demo, "Back That Up To The Beat," caught on. Maybe Gaga will return the favor.