Meghan Markle and Prince Harry Are Reportedly Taking Their Time On Their Coronation RSVPs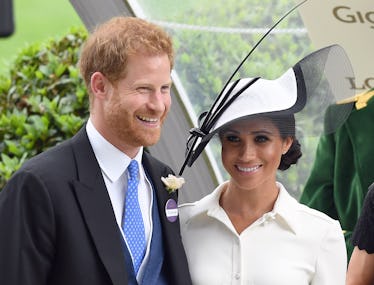 Anwar Hussein/WireImage/Getty Images
The ongoing issues surrounding King Charles' impending coronation are raging on, and this latest snag is hitting pretty close to home. Apparently, Buckingham Palace has no idea whether or not Prince Harry and Meghan Markle plan on attending the festivities, despite the fact that the event is a month away and the RSVP date has come and gone.
Now, Harry was raised according to royal etiquette, but you don't need to be a prince to know that you should respond to an RSVP in a timely manner. Despite that, according to the Daily Mail, Harry and Meghan have reportedly not answered, leaving the palace "none the wiser" as to whether the pair will make an appearance, despite the RSVP deadline passing on Monday.
The lack of information regarding the couple is apparently causing quite the "headache" for the organizers who are currently working out seating arrangements and security details for VIPs. These poor people already have a myriad of other issues to deal with at the moment, like the fact that President Biden reportedly snubbed Charles' invitation and will not be attending the coronation.
Of course, if Meghan and Harry do attend, they will not take their normal place on the Buckingham Palace balcony with the rest of Harry's family as they are no longer working royals. Maybe that's why they're not in a rush to answer. The couple could also still be working out their plans for Archie's fourth birthday, which falls on the same weekend as the coronation. Apparently, Meghan and Harry want to throw a little party for their son, but some are nervous it could overshadow the national event.
None of this may matter, however, as Harry reportedly has said he won't attend unless he gets a private apology from his father and brother. Unfortunately for Harry, according to The Independent, William and Charles don't believe "an apology is owed."