All Hail Queen Michelle Yeoh
Interview by Lynn Hirschberg
Photographs by Jamie Hawkesworth
---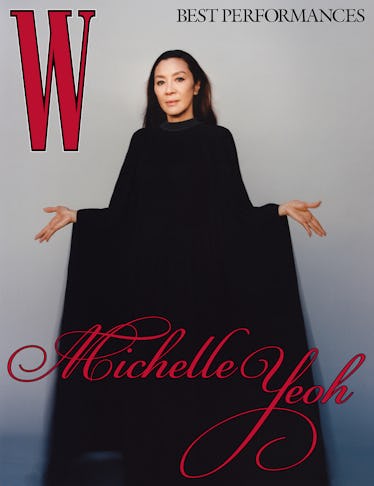 Yeoh wears a Balenciaga dress and pantashoes.
Michelle Yeoh is beloved for a reason. Since the 1980s, the Malaysian actress has established herself as a top action-film star. In movies like Crouching Tiger, Hidden Dragon, Guardians of the Galaxy Vol. 2, and Tomorrow Never Dies, she flexes her martial arts prowess in addition to her acting chops. But this year, Yeoh entered an entirely new genre of film. Since the acclaimed A24 film Everything Everywhere All at Once was released last spring, it has turned into a full-fledged phenomenon, garnering six Golden Globe nominations and becoming the production company's first movie to cross the $100 million mark, surpassing Hereditary as its highest-grossing project.
The success is in no small part due to Yeoh's lead performance as the Chinese-American immigrant Evelyn, who, in the midst of being audited by the IRS, discovers she must connect with parallel-universe versions of herself to stop a powerful entity from demolishing the multiverse. It's a role that's garnered Yeoh both a Golden Globe and Critics' Choice Award nod for Best Actress with an Oscar nomination all but guaranteed. The other cast members from Everything Everywhere featured in this portfolio referred to Yeoh as one thing only: the queen. Below, the 60-year-old discusses her decades-long career and her own thoughts on the multiverse.
How did this film, which is not your usual type of film for anyone, come into your life?
The journey started with the Daniels, Daniel Kwan and Daniel Scheinert It took two geniuses to write one great script, and that's what they did. They poured their heart and soul, everything they didn't get a chance to make, into this one script. When I was given the opportunity, the one request I made with the Daniels was they had to change the name. Initially, she was called Michelle Wang.
Really?
Yes. I said, "No, no, no. I do not want my audience to see this woman and think of me. Because you need to give her a voice. She deserves to have her own voice and tell her own story." Her story is hard because she's a very ordinary woman, and one day, she's tasked to do a superhero mission. So how do you become that? How do you transform from someone who is so ordinary to someone who's so extraordinary? That was the challenge I really loved.
You are naturally elegant, and the character you play in Everything Everywhere All at Once is a plain woman who runs a laundromat. Were you surprised when you received the script?
No. I'm not playing myself, and I would not want to do that. Thank god they wanted me to play Evelyn Wang, an Asian immigrant who you would pass by in Chinatown and probably not notice. She's sort of invisible, but she works so hard to ensure that her family can achieve the American Dream. She's completely frazzled—to get that look, I wore a wig with lots of white hair, reading glasses around my neck, and very practical clothing. I had to change my posture—this is a woman who doesn't have time to exercise. She has to look frumpy. I think my mother was upset when she saw the film. I was really worried about her seeing the sex toys that were flying around in the movie, but I guess she never noticed those. Instead, she said, "Why do you look so old? You should look like the film where you had the ballgown on!" I'm like, "Oh my God." But that's so typical of my mom: She wants me to run around the entire movie looking like a movie star.
Do you believe in the multiverse?
I'm a Buddhist, so I'm not gonna go there. I believe in karma and reincarnation.
What was the first film you auditioned for and booked?
Tomorrow Never Dies. In Hong Kong, the industry is so close and everybody knows everyone. By the time a director or producer comes to you, they are offering you the job. We rarely have an audition process. It was only when I came to America that I auditioned. [Laughs].
You've faced an interesting challenge because you can do action films, an area primarily occupied by men. Did you ever feel underestimated?
I did feel that I wasn't given enough opportunities, to be fair. So are all minorities, but also women in general. But here [in the United States], people like Reese Witherspoon and Nicole Kidman pooled their resources and their efforts together to set up their own production companies. They refuse to be put in a box and told, "Well, you can't do this," so they turn around and say, "Guess what? If you're not gonna let me do it, I'll have to do it myself." And they prove that they can. And that, at the end of the day, is what we are asking for: equal opportunities.
Have you ever gone on a date and the guy thought you could kick his ass?
Sometimes I meet people who don't really know what I do, which is kind of refreshing. And then those who know, they're like, "Oh my God, this is great—you can be my bodyguard." And I'm like, "No, dude, you can be mine."
Hair for portfolio by Anthony Turner at Streeters; makeup for portfolio by Lucia Pica for Byredo at Art Partner. Senior style editor Allia Alliata di Montereale; senior fashion market editor Jenna Wojciechowski. Manicure for portfolio by Michelle Saunders. Set Design by Gille Mills at 11th House.
Produced by Connect the Dots; executive producer: Wes Olson; producer: Zack Higginbottom; production manager: Nicole Morra; photo assistants: Cecilia Byrne, Jack Buster, David Gurzhiev; retouching: Simon Thistle; fashion assistants: Julia McClatchy, Tori López, Jacqueline Chen, India Reed, Nycole Sariol, Derek Ezra Brown, Karla Garcia, Rosa Schorr; production assistants: Khari Cousins, Tchad Cousins, Kelsey Swope Romero, Mateo Calvo, Juan Calvo, Rayon Pollard, Gina York, Peter Ditzler, Nico Robledo; hair assistants: John Allan, Dylan Michael, Ramdasha Bikceem, Malika Palmer; makeup assistants: Kate O'Reilly, Lilly Pollan, Bailee Wolfson; manicure assistants: Pilar Lafargue and Victoria Valenzuela, Jolene Brodeur; set assistants: Cory Bailey, Dirk Knibbe, Joel Garcia, Matt Day; tailors: Irina Tshartaryan, Ripsime Vartanyan at Susie's Custom Designs, Inc.