Miley Cyrus and Elton John Perform "Tiny Dancer" at the 2018 Grammy Awards
John received a Merit Award at Sunday's show.
---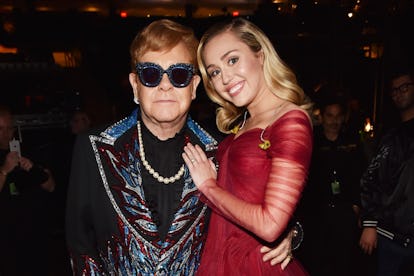 Kevin Mazur
Before he scooped up the fifth Grammy Award of his career on Sunday night, Elton John was joined by Miley Cyrus for a high-powered rendition of his 1971 classic "Tiny Dancer" that had everyone in the audience singing along.
John, wearing a black suit covered in red, blue, and silver sequined flames and starbursts and matching sparkly blue sunglasses by Gucci, played the piano while Cyrus, in a magenta princess-like Zac Posen ballgown with a full, floaty skirt, stood nearby, alternating verses with her collaborator and perfectly harmonizing with him throughout the performance. Later on during Sunday's ceremony, John and his writing partner of 50 years, Bernie Taupin, were slated to be presented with the Recording Academy President's Merit Award.
During a night already jam-packed with powerful performances from stars like Kesha, Kendrick Lamar, Lady Gaga, and many more, the Elton John and Miley Cyrus duet was a major highlight. Many Twitter users seemed to be impressed with Cyrus' progression from edgy teen queen to musical powerhouse, and with her and John's unexpected Lady Gaga–Tony Bennett–esque compatibility. "Just think, if this were four years ago, Miley would be twerking on Elton's piano," one wrote. "An Elton John and Miley Cyrus collab is something I never knew I needed #GRAMMYs," another added.
The performance comes just a few days before Cyrus, Kesha, Miranda Lambert, John Legend, Little Big Town, Chris Martin, Maren Morris, Sam Smith, and Keith Urban will celebrate John's illustrious career by performing his songs for Elton John: I'm Still Standing—a Grammy Salute. The tribute concert will be taped on January 30 at Madison Square Garden in New York City, according to Billboard, and will air sometime later in 2018. Ken Ehrlich, executive producer of the special, said in a statement that the artists were able to choose their own personal favorite song from John's vast discography to perform. "In most cases, the songs being done have been chosen by the artist," he said. "We try to balance [the show] out and make sure it's representative of eras and tempo, but I've always believed that artists know themselves best and we should respect that."
Earlier this month, John, who released a greatest hits collection called Diamonds in November, announced that his next tour will be his last, according to Rolling Stone. The Farewell Yellow Brick Road tour will kick off in Pennsylvania in September and will span 300 dates over the next three years. But before you start hoping he'll pull a Cher and make a comeback even after completing a "farewell" tour, John shut down that possibility in a January 24 press conference. "I'm not Cher," he said. "I'm 71. I can't physically do the traveling anymore. I want to be at home. I really want to spend time with my children at home. I've had an incredible life, but life is all about change." That said, John didn't totally shut down the idea of continuing to write and record music after taking a well-deserved break when the tour ends.
Related: Elton John Played Donald Trump's Wedding, But He Won't Play His Inauguration
Inside Elton John's Modernist, Man Ray-Filled Photo Collection
Man Ray, "Glass Tears," 1932.

The Sir Elton John Photography Collection © Man Ray Trust/ADAGP, Paris and DACS, London 2016
André Kertész, "Underwater Swimmer, Esztergom, Hungary, 30 June," 1917.

The Sir Elton John Photography Collection © Estate of André Kertész/Higher Pictures
Irving Penn, "Salvador Dali, New York," 1947.

The Sir Elton John Photography Collection Copyright © The Irving Penn Foundation
Josef Breitenbach, "Patricia, New York," c. 1942.

The Sir Elton John Photography Collection © Josef and Yaye Breitenbach Charitable Foundation, Courtesy Gitterman Gallery
Man Ray, "Rayograph," 1923.

The Sir Elton John Photography Collection © Man Ray Trust/ADAGP, Paris and DACS, London 2016
Walker Evans, "Christ or Chaos?" 1946.
Dorothea Lange, "Migrant Mother," 1936.

The Sir Elton John Photography Collection
Edward Steichen, "A Bee on a Sunflower," c. 1920.

The Sir Elton John Photography Collection
Maurice Tabard, "Solarised Man," 1930.

The Sir Elton John Photography Collection
Tina Modotti, "Bandolier, Corn and Sickle," 1927.

The Sir Elton John Photography Collection
Edward Weston, "Nude," 1936.

The Sir Elton John Photography Collection © 1981 Center for Creative Photography, Arizona Board of Regents
Herbert Bayer, "Humanly Impossible (Self-Portrait)," 1932.

The Sir Elton John Photography Collection
Edward Weston, "Igor Stravinsky," 1935.

The Sir Elton John Photography Collection
Ilse Bing, "Dancer, Willem van Loon, Paris," 1932.

The Sir Elton John Photography Collection © The Estate of Ilse Bing
Man Ray, "Nusch Eluard," 1928.

The Sir Elton John Photography Collection © Man Ray Trust/ADAGP, Paris and DACS, London 2016
Man Ray, "Nusch Eluard," 1928.

The Sir Elton John Photography Collection © Man Ray Trust/ADAGP, Paris and DACS, London 2016
Margaret Bourke-White, "George Washington Bridge," 1933.

The Sir Elton John Photography Collection Photo © Estate of Margaret Bourke-White/Licensed by VAGA, New York, NY