Elton John Played Donald Trump's Wedding, But He Won't Play His Inauguration
Elton Johns clarifies that he won't be playing Donald Trump's inauguration, which begs the question: Who will?
---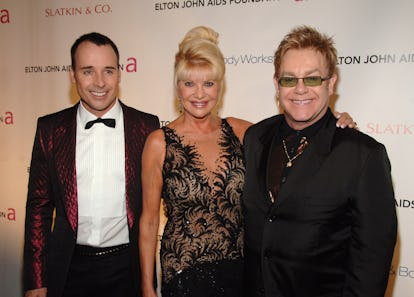 WireImage for Rogers & Cowan
Donald Trump and Elton John have a history.
In 2005, when Trump entered his third marriage with Melania down in Palm Beach at is Mar-A-Lago estate, John was on hand to serenade the happy couple.
Later that year, Trump returned the favor by congratulating John and his long-time partner David Furnish when they made it official on the first day that civil partnerships became legal in the United Kingdom. Trump took the now-deleted blog of his Trump University to write, " If two people dig each other, they dig each other. Good luck, Elton. Good luck, David. Have a great life." He then added, "But because I wasn't invited, do I still have to send them a toaster?"
Trump has also made use of some of John's songs, including "Rocket Man" and "Tiny Dancer," at some of his campaign rallies.
So it almost sort of makes sense that John would play Trump's inauguration. After all, John once also infamously played Rush Limbaugh's fourth wedding (also held in Palm Beach).
Anthony Scaramucci, a member of Trump's transition team, told the BBC earlier today that John would be on hand to celebrate the President-elect. "Elton John is going to be doing our concert on the Mall for the inauguration," he said. Scaramucci, who also happens to be gay, said it would be a sign of Trump's commitment to the LGBT community (despite, you know, the virulently anti-LGBT stance of vice president-elect Mike Pence).
"This is incorrect. Elton will not be performing at Trump's inauguration," a John rep quickly sent out to the press in responce.
Which, also makes sense, considering that John, though a British citizen, signaled his preference for Hillary Clinton earlier this year by appearing at a fundraiser, and calling Trump "a barbarian."
This of course, begs the question of who will play Trump's inauguration?
President Obama had memorable performances by Beyoncé, Kelly Clarkson and Aretha Franklin at his two inaugurations. Even George W. Bush managed to rustle up Ricky Martin, Jessica Simpson, Brooks & Dunne and 98 Degrees at his first.
Trump, however, is particularly abhorred by the creative class, even more so than other recent Republicans to take the office. The list of stars who supported The Donald was notably small, and included the likes of Hulk Hogan and Dennis Rodman.
At one point he did have the endorsement of Azealia Banks and Aaron Carter, but both ended pulling their support before the election. Too bad, each could use the career boost of an inaugural gig.
Which leaves us with Wayne Newton (who also played a Bush inauguration), Kid Rock, Ted Nugent, Kiss's Gene Simmons and Loretta Lynn. Or, well, Kanye.