MOCA Gala 2023: "It's Not an Ibiza After Party, It's a Carl Craig After Party"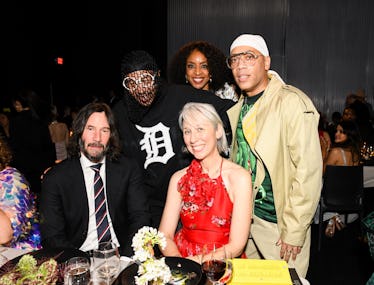 Keanu Reeves, Moodymann, Alexandra Grant, and Carl Craig at the MOCA 2023 Gala. Photograph by Owen Kolasinski for BFA
Have you ever gone dancing—moving with hundreds of people, beat pulsing under your skin—and afterwards, gone home alone with a ringing in your ears? It's an experience one expects to have somewhere like Berghain, certainly not at a museum. But that's what Detroit techno pioneer Carl Craig, an essential innovator of the genre, has brought to the Geffen Contemporary at MOCA. And on April 15, the musician transformed the museum's cavernous warehouse space into something that felt more akin to a night at the Knockdown Center than an art exhibition. In celebration of MOCA's annual gala at The Geffen Contemporary in Los Angeles, Craig's installation, titled Carl Craig: Party/After-Party, brought out the likes of Keanu Reeves, Tiffany Haddish, Jodie Foster, and Patricia Arquette that night. And, of course, the art contingent was out in full force: Betye Saar, Charles Gaines, Martine Syms, Alexandra Grant, and many more were in attendance.
The work, which was originally commissioned by the Dia Art Foundation, is designed to take visitors through a night out—from the DJ's perspective. First, there's the Party: as attendees walk through a dark space, they're bathed with immersive sound, techno beats, darkness only broken up with small Flavin-like strips of neon light. And then the After-Party, a play on words: in an area dubbed "The Sweet Spot"—the location in the space where the sound is clearest and fullest—a spotlight opens up, symbolizing the dawn. High-pitched frequencies make one's ears ring, echoing the experience of tinnitus, a condition from which Craig unsurprisingly suffers. The vibrations are so strong that the museum can't even hang art in the adjacent building.
"The After-Party has to do with my angst, dealing with tinnitus, and everything else that you have with sitting in a hotel room by yourself, after the party is done," Craig told W at the museum's annual gala. "Not in the typical sense of the kind of 'after party' that people expect. So it's not an Ibiza after party, it's a Carl Craig after party."
The 2023 iteration of the MOCA gala, also held to celebrate the final weeks of Henry Taylor's exhibition B-Side (coming next to the Whitney Museum), was a star-studded hit, a party fit for such a bombastic exhibition. Celebrities were everywhere: Reeves and his artist girlfriend Grant made headlines for sharing a passionate kiss on the red carpet; we spotted disparate stars from the worlds of music and movies, including Kim Gordon and Eric Andre, alongside artists like Mark Grotjahn, Catherine Opie, and Jonas Wood. "We love MOCA," Grant said. "And we are so happy to support [museum director] Johanna Burton."
The dress code, in honor of the club-esque exhibition, was called "Catch the Light," which several attendees took literally—one woman wore a tulle skirt lined with Christmas lights. "I'm having a blast," said writer Hilton Als, who gave this writer a thrill by complimenting her (cheap) shoes. "It's actually one of the nicer benefits that I've ever been to. It's great to see young people kinda get glammed out."
After cocktails and dinner, attendees took in a performance by Grammy-winning jazz singer Samara Joy. And then there was the after party. A huge crowd of Angelenos danced to a set by techno legend Moodymann, and Craig himself—a once-in-a-lifetime experience for techno lovers.
Guests of the gala kept going into Craig's installation, preening and posing for photos underneath The Sweet Spot, unaware that it was the best place in the house to hear Craig's composition. "I designed that place mainly for people to get that [sonic] experience all at one time," said Craig. "So when it was first shown, people were posting on IG, dancing, spinning, doing whatever they're doing, and that's fantastic, that's great. I still want them to get the essence of what I mean by the 'After-Party,' but that's all part of the enjoyment. But maybe for some people this might be like going to Disneyworld, I don't know."
Before dinner, I went in to see (hear?) the exhibition. I walked in behind Grant and Reeves, dutifully carrying his girlfriend's purse. There was that spotlight, shining above an X on the ground. I heard the beloved celebrity couple mumbling to each other, wondering aloud if the spotlight was for Instagram. It certainly seemed to be. But I knew what it was. And so I walked into the center of the room, closed my eyes, and listened.