Tyrell Hampton Knows How to Capture a Good Time
The rising photographer charts his path from sneaking backstage snaps to becoming one of fashion's most in-demand party chroniclers.
---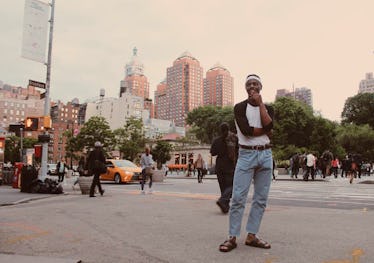 Tyrell Hampton took this self-portrait in NYC's Union Square during his freshman year at Parsons. "The day I arrived, I was like, 'Bye, Mom! I'm going to unpack everything—toodle-oo!' I was so ready for an adventure on my own," he remembers. Courtesy of Tyrell Hampton.
"I grew up dancing literally 24/7. It was just school, dance, school, dance, home, no sleep, studying," says Tyrell Hampton, who spent his childhood training to be a professional dancer. "When you don't have social engagements when you're young, you chase them when you're older." In the handful of years since he moved from Philadelphia, where he grew up, to New York City, the now 25-year-old photographer has done more than just go after good times—he has built a career out of capturing them. It started organically, as he developed friendships with like-minded people while he was a photography student at Parsons School of Design. "I was photographing whatever I was doing at the time because I was just so grateful to be in those moments of, like, 'We're at the club! Oh my gosh, and I'm in New York!' " he says. While interning at magazines and production companies, he got into the habit of "irreverently taking photos in places where I shouldn't have been," like backstage at fashion shows. These days you might catch him—fully credentialed—at celebrity-packed galas for the Met or the Academy Museum. He has also built quite a following on TikTok, where he shares videos of himself dancing, traveling, or joking around with his model pals. But he has his sights set beyond nightlife: "My first love was video, so I want to get back into making films," he says. "And also more tangible things, like books and zines—things that people can have."