Jewel Intentions
Meet a lineup of designers rocking distinctive vibes— from antique and spiritual to downright glam.
---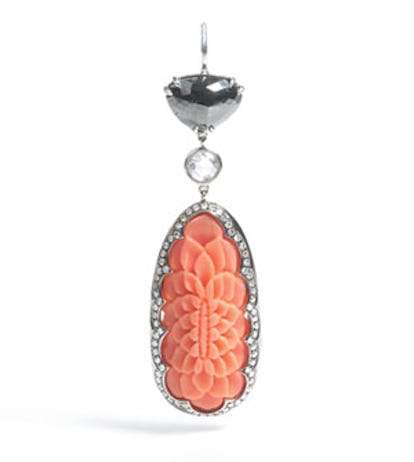 Karen Bizer is no stranger to the fashion and jewelry business. She's both a public relations veteran and a former editor, having started her career in the Eighties at Women's Wear Daily, W's sister publication. Now Bizer can add designer to her résumé: Last August the New Yorker officially launched the Karen Bizer Fine Jewelry collection ($1,800 to $15,000). "I always had an interest in the history of jewelry," she says. "And the idea of doing something with my hands was immensely appealing." Her pieces channel a charming old-world vibe—shagreen, gold and diamond bracelets, carved jadeite earrings—and come with a spiritual bonus. The self-taught Bizer cuts mandala symbols into her pieces and picks individual gems for their healing properties. Case in point: the nine-stone Navratna Good Fortune earrings inspired by Hindu astrology. "Each stone represents a planet," explains Bizer. "They're supposed to bring order and synchronicity."
Meet the other designers:
Kessef by Eve Lynn Jemma Wynne Raul Frisneda Jewelry
Click here to go back to the original article.