Niki's Debut Album Moonchild Is a World of Her Own Creation
Watch the music video for her first single off the album, "Switchblade," ahead of her late summer record release and fall Coachella performance.
---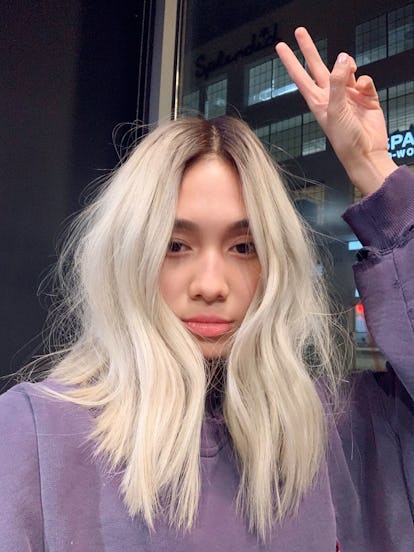 Selfie shot by Niki for W magazine.
Nicole Zefanya, a budding international pop star who goes by Niki, describes her hometown of Jakarta, Indonesia in a number of ways: effervescent, crowded, lively, a blend of authentic Indonesian hospitality and Southeast Asian commercialization, one of the friendliest places in the world.
But most importantly, it is musical.
According to the 21-year-old singer and songwriter—whose EP Zephyr dropped in 2018 and has since catapulted her into the spotlight, opening for Halsey on her tour that year, and leading to a signed record deal with 88 Rising—practically everyone from Jakarta is musically inclined. When Niki sits in her car, waiting for traffic to pass or a red light to change, a group of boys might come up to the window, playing guitars. Television shows from the area are heavy on the soundtracks, and feature live performances constantly. And when Niki was a kid, her mother sang gospel music at a church in East Jakarta. Her mother's performances, as one of six backup singers who proudly supported a worship leader with vocals, were one of her first experiences of live music. Every other Saturday, Niki's family would invite their church friends to their house for a barbecue after mass. They'd eat enormous glass bowlfuls of food, (Niki's mom was the chef), and inevitably, a guitar would materialize, and the group would sing gospel songs once more.
"Everybody would start harmonizing in three-part harmonies," Niki said on the phone, from her new home in Los Angeles in March. Niki's mother and her good friends, whom the singer refers to as her aunts and uncles, were into '90s r&b. The genre constituted the rest of her musical diet during her formative years: Boyz II Men, Destiny's Child, and the divas, like Mariah Carey and Whitney Houston.
"They're these singers in this church in the middle of nowhere, and they were just bumping this music," Niki laughed. "It's the funniest combination. But it was my upbringing."
Niki's first "big break," so to speak, was an opportunity uncommon for most artists starting out—she opened for Taylor Swift during the Asia leg of her Red Tour in 2014. Niki's mother had been sent a flyer on WhatsApp, calling for video submissions from local singers who could win a chance to play for Swift. The singer, who was 15 at the time, covered Swift's song 22, and her rendition won her the contest. Although she can't remember much from that performance, ("It was the most surreal experience of my life," she said), being on stage solidified her notion that she wanted to pursue music as a career.
Niki started posting videos of herself covering other Swift songs, along with original content, to her YouTube channel. Eventually, another Jakarta native whose music career was blowing up, Rich Brian, took notice of Niki's voice.
"He DM'ed me, and then we met up at a studio in Jakarta and we became demo buddies for a long time," she explained. "He would send me demos, and I would send him demos and we would tell each other what we thought."
One demo in particular piqued Rich Brian's (who also came up on YouTube through a series of viral rap videos) interest, and he asked to produce over it. When he showed it to Sean Miyashiro, the CEO at 88 Rising, the executive asked to meet with her, and eventually signed her.
Since then, Niki has amassed over a million followers on Instagram, and has fans in Halsey and Bernie Sanders (or at least a member of Bernie Sanders's social media team), who used her song Indigo in a recent promotional Tik Tok.
Niki is also now scheduled to make her debut at Coachella in the fall, along with Rich Brian, who's also on the bill; they'll be the first Indonesians to ever perform at the music festival.
But right now, she is focused on finishing mixing and mastering her debut album, Moonchild, which will be released in August. She has spent the past month or so quarantining solo—before the coronavirus pandemic hit, Niki had just wrapped recording. The first single from Moonchild, a song called Switchblade, dropped today, along with a video depicting Niki exploring an anime-like, forested world at night.
It's a visual representation of the world she created in her record—a universe she dreamed up, where she could go at night, when she worked on the album, to escape what was happening in the real world. At the time she was making Moonchild, Niki's mother was fatally ill; she had been for a long while.
"It was hard to see her in pain all the time," Niki said. "Everybody came to terms with it. At the end of the day, we just didn't want her to be in pain anymore."
The landscape for Moonchild, as a result, became a creative playground where Niki could let her imagination run free and write for the album—which she did by naming each track first, then writing the corresponding songs, a process she has described as "super helpful, but also the bane of my existence."
"I could naturally go there without thinking, 'Would people understand this? Is this too crazy?' I just kind of said F that, and I'll just write whatever I want."
In February of 2019, Niki's mother passed away. The album, as a result, held so much more weight in Niki's mind.
"She is the soul of this," the musician said. "She single handedly was the person who encouraged me to start doing music. I pretty much owe my entire career to her."
Her mom was, in fact, the one who pushed her to submit her video cover for the Taylor Swift concert contest in the first place. After she received the WhatsApp message with the flyer, she showed her daughter, who didn't believe it was real. She coaxed the young Niki to verify it on Swift's website.
"I swear to god, I didn't even brush my hair, I didn't change out of my clothes, I was just like, I'm gonna do this," Niki said of making the video. But the idea of singing, expressing herself through songwriting, and performing was already deep in her bones. She'd been hearing it for years, at home and inside the East Jakarta church.
"Making music was kind of set in stone for me from the beginning," Niki said.
Related: Thundercat Talks It Is What It Is and Raising His Teenage Daughter on George Duke