Nuha Jes Izman on the Whirlwind of Joining Yellowjackets
In season two of the hit show, Izman plays Crystal, a mysterious theater nerd who gloms onto the mischievous Misty.
---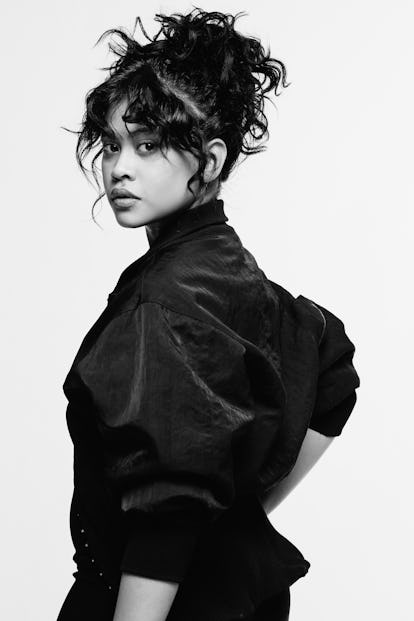 Stephanie Diani
Nuha Jes Izman was excited to sit in the makeup chair for her first day on the Yellowjackets set. After all, this was the recent drama school grad's first big television role. "I was like, oh my God, this is Hollywood, this is glamorous," she says during a recent Zoom call, her voice emphasizing the fantasy of it all. Then the makeup team started putting dirt on her face. "I'm like, 'still kind of cute, we can get away with that,'" she remembers. Then they added redness to her face to simulate frostbite. Then they put a treatment on her lips to make them look cracked. It's not exactly red carpet material.
But it's par for the course with Yellowjackets, the Showtime hit about a soccer team stranded in the frigid and dangerous wilderness after a 1996 plane crash and their contemporary counterparts. Izman, 21, plays a new character named Crystal, a member of the JV Yellowjackets squad who audiences just didn't happen to meet during the first season. When we do encounter her in the season two premiere it's hard to know what to make of this little weirdo. She's a musical theater nerd who uses singing as a method to help herself go to the bathroom, and she sidles up to the delightfully freaky Misty (Samantha Hanratty), who has been made an outcast by the rest of the group after drugging them all.
Getting the gig was a whirlwind experience for Izman, who grew up in Malaysia and was attending the Stella Adler Studio of Acting when the trailer for the first season dropped. "I so clearly remember thinking, 'goddammit, I wish they were making this three years from now so that I would have a shot at being on it," she says. One audition tape later, and she was headed to Vancouver to get her wish.
Truly, it happened that suddenly. Izman was cast after submitting just a single video of herself reading a fake scene that had also been deployed for Misty auditions in season one. She didn't hear anything back for weeks. "I was on my sister's couch, I had like $12 in my bank account, and then I got the call," she says. She had to fly the very next day to report to set, which meant relying on her impulses to figure out just who Crystal was. She didn't even have time to hone her singing and dancing skills, which are put to use in one of her early scenes where she sings "The Glory of Love"—the version from the period appropriate movie Beaches, of course. "The director emailed me and she was like, 'by the way are you trained in tap dancing and singing,'" Izman recalls. "I was like, 'No ma'am, I am not but I will do it.'"
That kind of self sufficiency seems to come naturally to Izman. Raised in Kuala Lumpur, she started performing at a young age with her father's organization called the Tree Theatre Group, putting on plays to raise awareness about environmental issues. Since the age of 6, however, she knew she was destined for New York. So she saved up money and auditioned for drama schools in secret, doing callbacks at 3AM in her bedroom. She thought her parents would be a little more wary of her plans, but because she was armed with a PowerPoint presentation and explained how she would apply to scholarships to pay, they put their trust in her.
Getting to the city to start school was a little like getting on the Yellowjackets set. "You're like, 'wow, I've dreamt about this my whole life, can I actually do it?'" she says. "I just had to tell myself, whatever it is, you're here right now, try it out and have fun."
Though Crystal's the one who makes overtures to Misty, even giving her acting lessons, on set it was Samantha Hanratty who took Izman under her wing. "She took me in instantly and was like, 'You're my new best friend,'" Izman says. "But all the girls are so welcoming, they are so nice. My favorite part of being on set was watching the other girls work. Man, can these girls act. It was like a masterclass in acting every single day." There were no creepy Yellowjackets-style rituals inducting her into the group, just hangouts, birthday parties, and watching Love Is Blind during lunch breaks.
Izman tapped into her own high school persona to play Crystal, who gloms onto Misty as a cure for her own loneliness, introducing Misty to her passions, like musical theater, but also mimicking Misty's demeanor. "In high school I did that a lot," she says. "I would mirror my friend groups because I wanted them to like me so I wanted to be more like them. I was like, oh that's a really cool way to play it because then the audience doesn't know, does she mean something evil behind this imitating Misty or is she just trying to find a way to fit in?" Izman also pitched her voice up a register to channel that teenage diction.
But while the Yellowjackets audience will meet her covered in grime as a slightly creepy high schooler, on the press tour she's introducing the world to her own personality and unique style. Case in point: The shirt she wore to an event at South by Southwest which quotes Jennifer Coolidge in The White Lotus with the phrase, "Please, these gays they're trying to murder me." She made the tee herself from supplies she got from Michael's. It's an "iconic meme," obviously, but she also thought it was apt. "I was like, this is kind of me in our show," she says.