Everything We Know About Only Murders in the Building Season3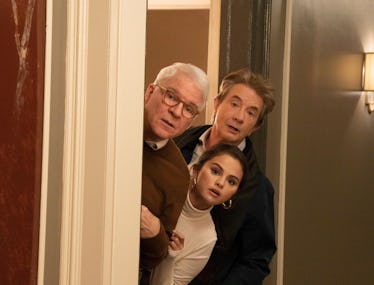 Craig Blankenhorn/Hulu
Given Only Murders in the Building's continued popularity (and the multiple Emmy nominations the series has received, including Outstanding Comedy Series), it's no surprise that the show was already renewed for a third season. "Only Murders in the Building is the true crown jewel of our slate," said the president of Hulu Originals and ABC Entertainment, Craig Erwich. "Its appeal across generations, the intersection of humor and heart...We are grateful to be able to continue telling the stories of Charles, Oliver, and Mabel to viewers that have consistently shown us they crave more of this story."
Now that season two is behind us, the anticipation for another round with our three amateur detectives is once again building. Here's everything you need to know about Only Murders season three:
Is there a trailer for Only Murders in the Building season three?
The first trailer for season three of OMITB dropped on July 26th. The clip shows our trio working together—with plenty of puns, slapstick and dad jokes sprinkled in—to try and determine who killed Broadway star Ben (played be Paul Rudd). Jesse Williams arrives as a potential love interest to Selena Gomez's Mabel, Ashley Park plays a TikTok obsessed actress, and Meryl Streep hilariously plays a woman who is such a bad actor she can't get through a table read.
Watch the trailer, below:
Are any new cast members joining Only Murders in the Building season three?
Only Murders has boasted a star-studded cast since day one, but season three is shaping up to take things to a whole other level. Deadline announced that former Grey's Anatomy star Jesse Williams will be joining the show in a recurring role next season. According to the site, Williams "will play a documentarian with a particular interest" in Charles, Mabel, and Oliver's latest case.
In addition, on January 17, 2023, Selena Gomez teased a major surprise with a TikTok featuring Meryl Streep. "Hey guys, we're on set," Gomez says to the camera in the video, sandwiched between her co-stars Martin Short and Steve Martin. "What are we shooting? Season three." She then pans the camera to show Paul Rudd before Meryl Streep pops up behind the couch. Short cracks a joke about waiting on a cup of tea from Streep that he asked for "a half an hour ago," as the group of seasoned comedians cackle and Gomez looks to the camera with a "can you believe it" stare. If it's any indication of the cast's chemistry, we're in for a treat.
And while we're talking TikTok updates, the cast took to the platform yet again to announce another new star joining in for season three—Emily in Paris' Ashley Park. The actress enlisted Gomez and Short's help for a clip set to audio from the 1942 film My Sister Eileen to reveal the news with the caption, "Murders?? IN THIS BUILDING???? So excited to join this killer (pun intended) cast of amazing humans."
According to Deadline, Park will play Kimber, a Broadway ingenue, a fitting role as the actress herself could be described as just that. As of now, not much else about her character is known, but it will be a recurring role.
Who will return for Only Murders in the Building season three?
If you wanted more of Paul Rudd's Broadway star, Ben Glenroy, after meeting him in the season two finale, you're in luck. According to Variety, Rudd will return in season three following his surprising cameo.
"Paul Rudd, after making an auspicious entrance into the world of our show at the end of Season 2 as Ben Glenroy, is someone we clearly want to know more about and see in our upcoming Season 3," said the series' co-creator John Hoffman. "He is a clear source of many upcoming questions and, as ever with our show, many twists yet to come!"
Rudd and Williams will, of course, be joined by Selena Gomez, Steve Martin, and Martin Short, who are set to reprise their roles as Mabel, Charles, and Oliver in the third season. In fact, Martin seems to be in it for the long haul. When asked by Variety about how long he'd be willing to work on the show, Steve Martin said, "Until I'm in a walker, that's how long I'd like to do it," and it seems like he may be manifesting his future.
What will Only Murders in the Building season three be about?
Major spoilers here: In season two, Glenroy died on-stage while performing in a Broadway play, and Charles, Oliver & Mabel are determined to find out who possibly killed him. According to a new synopsis, the trio is joined by Glenroy's Broadway co-star Loretta Durkin (Streep) to solve the case.
When will Only Murders in the Building season three be released?
The series returns with two episodes on Tuesday, August 8, with new episodes weekly.
This article was originally published on