Only Murders in the Building Is Coming Back for a Third Season
Here's everything to know about season three of the comedic mystery show.
---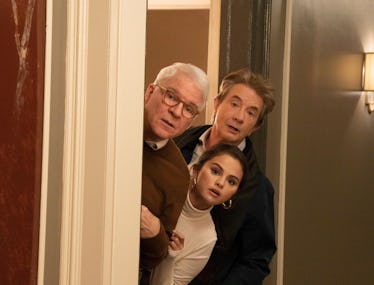 Craig Blankenhorn/Hulu
Given Only Murders in the Building's continued popularity (and the three Emmy nominations the series received, including Outstanding Comedy Series), it's no surprise the show was renewed for a third season just three episodes into season two. "Only Murders in the Building is the true crown jewel of our slate," said the president of Hulu Originals and ABC Entertainment, Craig Erwich. "Its appeal across generations, the intersection of humor and heart...We are grateful to be able to continue telling the stories of Charles, Oliver, and Mabel to viewers that have consistently shown us they crave more of this story."
Now that season two is behind us, the anticipation for another round with Mabel, Oliver, and Charles is once again building. Unfortunately, we're going to have to wait a little while until we're reunited with the Arconia. But in the meantime, here's everything you need to know about Only Murders season three.
Who will return for Only Murders in the Building season three?
If you wanted more of Paul Rudd's Broadway star, Ben Glenroy, after meeting him in the season two finale, you're in luck. According to Variety, Rudd will return in season three following his surprising cameo.
"Paul Rudd, after making an auspicious entrance into the world of our show at the end of Season 2 as Ben Glenroy, is someone we clearly want to know more about and see in our upcoming Season 3," said the series' co-creator John Hoffman. "He is a clear source of many upcoming questions and, as ever with our show, many twists yet to come!"
Rudd and Williams will, of course, be joined by Selena Gomez, Steve Martin, and Martin Short, who are set to reprise their roles as Mabel, Charles, and Oliver in the third season. In fact, Martin seems to be in it for the long haul. When asked by Variety about how long he'd be willing to work on the show, Steve Martin said, "Until I'm in a walker, that's how long I'd like to do it," and it seems like he may be manifesting his future.
Are any new cast members joining Only Murders in the Building season three?
Only Murders has boasted a star-studded cast since day one, but season three is shaping up to take things to a whole other level. Deadline announced that former Grey's Anatomy star Jesse Williams will be joining the show in a recurring role next season. According to the site, Williams "will play a documentarian with a particular interest" in Charles, Mabel, and Oliver's latest case.
In addition, on January 17, 2023, Selena Gomez teased a major surprise with a TikTok featuring Meryl Streep. "Hey guys, we're on set," Gomez says to the camera in the video, sandwiched between her co-stars Martin Short and Steve Martin. "What are we shooting? Season three." She then pans the camera to show Paul Rudd before Meryl Streep pops up behind the couch. Short cracks a joke about waiting on a cup of tea from Streep that he asked for "a half an hour ago," as the group of seasoned comedians cackle and Gomez looks to the camera with a "can you believe it" stare. If it's any indication of the chemistry of season three, we're in for a treat.
What will Only Murders in the Building season three be about?
All we know for now is that season three will pick up with Charles, Oliver and Mabel trying to find out (spoiler alert) who killed Glenroy, who died on-stage while performing in a Broadway play in the season two finale. Given that Rudd, who plays Glenroy, is somehow returning to the series, there's a guarantee of plenty of twists and turns this season.
When will Only Murders in the Building season three be released?
There's no release date yet, though we know season three will hit Hulu sometime in 2023.
This article was originally published on