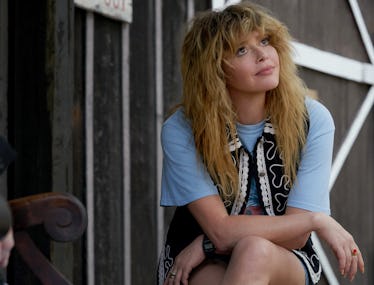 Natasha Lyonne in 'Poker Face.' Image courtesy of Peacock.
Warning: spoilers from the first season of Poker Face ahead.
On paper, Peacock's Poker Face might sound like an oddity of major network television: a mystery-of-the-week series starring Natasha Lyonne as a self-proclaimed detective with psychic abilities. Yet on-screen, all of the elements fall into place—making a sleek, watchable show with knee-slappers galore. Created by Rian Johnson, the Academy Award-nominated writer and director behind the Knives Out films, the show takes cues from nostalgic detective programs like Magnum P.I., The Rockford Files, and Columbo.
Like the rest of Johnson's work, Poker Face has style to boot; each episode features an outstanding lineup of guest stars, all of whom are transformed into characters totally unlike their real-life selves. That's where the work of Trayce Gigi Field comes in. The NAACP Award-nominated costume designer first got involved with the project after working on a Netflix comedy special directed by Lyonne, who, in addition to being its star, also acts as the executive producer, co-writer, and director on Poker Face. "We have similar energy—very direct, get to the point, and talk really fast," Field tells W over Zoom. With a CV that includes Barb and Star Go to Vista Del Mar, 2 Broke Girls, and the TV adaptation of A League of Their Own, Field knows how to create costumes that have great visual impact while allowing its wearer to perform with physical comedy.
Clothing and accessories serve as central parts of Poker Face's plot because they offer direct clues for our protagonist. "I'd have specific conversations with Trayce if there were story needs for some of the costumes, but within those parameters, I'd just let her run," Rian Johnson says. "She'd always come up with looks that made the world and characters feel lived-in and natural, but that defined them in a striking way."
When building the wealth of outfits that make Poker Face such a stylish watch, the costume department combined a mix of designer, high street, and vintage elements. Below, Field breaks down Lyonne's character's looks, along with nine of the show's guest stars—from Chloë Sevigny and Judith Light to Charles Melton and Adrien Brody.
Charlie Cale
When creating the wardrobe for each of the episodes ("It was like making 10 mini movies," Field says), the costume designer started off with Charlie Cale, the main character played by Lyonne. In each of the episodes, Charlie is on the run in a different state. Trayce worked closely with the makeup and hair departments as well as Lyonne herself to figure out the protagonist's look. "For Charlie in particular, we knew we wanted to bring in a lot of the flavor from Elliott Gould's character in one of my favorite films and the Altman classic, California Split," Lyonne says. "Trayce was so great at realizing the sweet spot between the oversized sweater we stole from The Dude in The Big Lebowski to her more standard uniform with added flair, like sunglasses and baseball hats from trucker stops [while we were] on the road."
Charlie's enviable collection of vintage tees, including a black Fleetwood Mac one she loves to wear with Dolce Vita cowboy boots, was "probably bought at a thrift store, like Goodwill," says Field. A master at layering, vintage vests play a big role in her wardrobe—including a Bode-esque black one embroidered with white lace. Her pièce de résistance, though, is a classic suede Saint Laurent aviator jacket, which she's seen in throughout the episodes. "She bought [it] back when she was gambling, which was how she got in trouble in the first place," Field says.
One of the most ambitious looks from the show was a custom horse costume Charlie wears in episode 8. It also happens to be Lyonne's favorite. "I'm most proud that we actually pulled off the horse from [Jean] Cocteau's [film] Testament of Orpheus. I wanted to use that reference back in the writers room. Maybe I kept thinking someone would cut it, but I was so proud that we were actually together trying on various horse heads."
With the season finale coming to Peacock this Thursday, March 9th, Lyonne teases a major fashion moment: "Another special collaboration was landing on the right dress for the necessary fish-out-of-water-meets-action sequences with [director] Janicza Bravo in the finale."
"It's a sparkly Dolce & Gabbana dress and it was the first dress that I bought," says Field. "We tried 50 others, maybe more, but then we came back to it. We had to have four of them… lots of stunts—she jumps in the ocean!"
Cliff LeGrand
Played by Benjamin Bratt, Cliff is the only other character we see throughout the season as he tries to hunt Charlie down. He is always immaculately dressed, swapping the army uniform from his past with sleek suits in neutral hues and knit polos from Suitsupply. Dangerous and humorless, Cliff is the complete opposite of Charlie, which is recognized in his pristine fits. "In the last episode, you get to see his hair blowing in the wind on the boat, in his boating outfit—a beautiful polo, fancy slacks, and boat shoes. You get to see a different side of him," Field says.
Sterling Frost Jr.
As the head of the casino he's taken over from his father, Sterling (Adrien Brody) is a vision of old Vegas. Away from the glitz of the strip, his looks pay homage to the 1995 film Casino. But instead of full suits, Field created his souvenir shop versions of tailoring out of separates—including jeans and slacks worn under suit jackets from John Varvatos and ASOS. Although he's an evil human, Sterling definitely understands the power of accessorizing, often integrating brooches, pocket squares, and gold chains into his looks.
Ruby Ruin
Cutting a silhouette reminiscent of Hedi Slimane's work at Saint Laurent, Ruby Ruin (Chloë Sevigny) represents the redux of a fallen rockstar. "She's stuck in a time when she was on the road and doing her thing with the band Doxxxology," says Field. In a way, she plays into all the stereotypes of a heavy metal one-hit-wonder—including a Joan Jett-ish studded leather vest, skinny latex trousers, and a red corset.
Throughout episode 4, we see her transform from a hardware store uniform to her on-stage persona, accompanied by statement footwear. In one of the major giveaways to the crime, she swaps her spiked Alexander McQueen pumps for a pair of double-stacked Doc Martens—to protect herself from getting electrocuted on stage. Talk about a killer pair of heels.
Laura
According to Alice Ju, who co-wrote episode 8 with Lyonne, Laura (Cherry Jones) was originally modeled after Kim Novak in Vertigo. "[She] has pursued this relentless forward motion, trying to outrun the past. Over the years, she's transformed herself into this imperious studio head, the embodiment of modern coastal luxe, a true modern Columbo villain," Field says. The costume designer knew exactly where to look: "Max Mara. I walked into their store and realized I had to use those pieces." Field mentions that Jones adored the transformation: "We ended up giving her one of the suits because she loved it so much." During the episode's apex moment, Laura's whole world is falling apart—except her Carolina Herrera black shirtdress with a maxi A-line skirt and contrasting white floral embroidery.
Joyce & Irene
As two of the most endearing criminals on the show, Joyce (S. Epatha Merkerson) and Irene (Judith Light) instantly bond with Charlie when she perceives them as two eccentric women stuck in an old people home with a bunch of normies. Their looks are inspired by Advanced Style icons like Iris Apfel. But with these two, it's all about paying homage to their origin story, which dates back to the 1970s and lends them a bohemian, flower-child sensibility.
In one surreal moment, we see wheelchair-bound Irene climbing a trellis to murder her arch nemesis. "There were a lot of logistics involved in this custom build—I had to get the trellis, find the fabric, and create the bodysuit," says Field. Their colorful looks also play a role in the absurdity of the big physical fight against Charlie, as their friendship comes to a fiery finale.
Davis McDowell
Though without much fashion, Davis's (Charles Melton) outfits still speak volumes about his character. Dangerously confident, this aspiring race car driver aggressively flirts with Charlie before putting his enemy's daughter in the mortal seat of his car. "If you were to look up fuck boy in the dictionary, there he is," Field says with a laugh. When not in his race suit, Davis is sporting an overall lack of sleeves and a baseball cap worn backwards. It's the perennial bad guy look you wish you hated, but can't help falling for.
Trey Nelson
While some characters try to create a sense of compassion, Trey (Joseph Gordon Levitt) is a total asshole with zero redeeming qualities. And what does he wear? A set of ridiculously expensive, dove gray Brunello Cucinelli sweats with a Theory t-shirt and Aurélien loafers, imported from Europe. "As soon as you look at him, you understand it's all expensive," says Field of his outfit, which is accessorized with an ankle monitor that ends up playing a vital role in his demise.