Prince Harry Claims William and Charles Have No Interest in Reconciling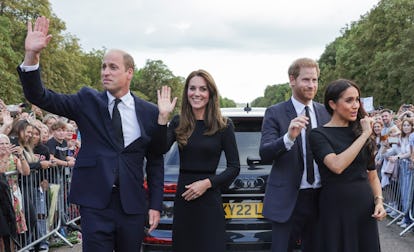 Chris Jackson - WPA Pool/Getty Images
One six-hour tell-all docuseries down, one memoir to go. Ahead of the release of Prince Harry's book, Spare, which drops on January 10th, the royal is drumming up more publicity, as well as making a reconciliation plea to the rest of his family. According to him, though, the other royals are not on the same page.
In an interview with ITV, which will be released in full on Sunday, the prince spoke about his desire to make amends with King Charles and Prince William. "I would like to get my father back. I would like to have my brother back," he said. Despite that, Harry claims the two have "shown absolutely no willingness to reconcile." He continued, saying "They feel as though it's better to keep us somehow as the villains."
But the ITV interview isn't the only one dropping on Sunday. CBS will also be releasing a 60 Minutes chat between the prince and Anderson Cooper that same day. In a clip shared to Twitter Harry reiterated his previously-made claim that the palace leaked and planted stories about him when he tried to handle his departure from royal life privately. "They will feed or have a conversation with the correspondent and that correspondent will literally be spoon fed information and write up the story," he said. "Then, at the bottom of it, it will say that they've reached out to Buckingham Palace for comment, but the whole story is Buckingham Palace commenting." He continued, saying, "So, when we're being told for the last six years, 'We can't put a statement out to protect you.' But you do it for other members of the family. There becomes a point when silence is betrayal."
Likely, the royal family is preparing themselves for the release of Spare, just as they did for the Netflix series, and while Harry may take some stabs at his brother and father, it is thought that one specific member of the monarchy will remain untouched in the pages of the memoir. A source told the Daily Mail that Charles warned Harry that speaking of Queen Camilla in the book would be a "red line" for him. So, if Harry does really hope for reconciliation in the future, the Queen Consort will remain off limits.