Julio Torres' Problemista Chronicles the Surreal Climb Toward the American Dream
The Los Espookys creator stars in a heartfelt new comedy with Tilda Swinton.
---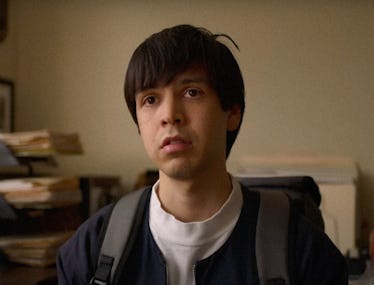 A24
"You don't know what it is to really want something. To be on a mission journeying into the unknown," Tilda Swinton tells Julio Torres in the trailer for A24's new film, Problemista. But actually, Torres' character, Alejandro, knows exactly what that's like. With one month left to secure a visa cosign from his demanding and eccentric artist boss (Swinton), El Salvador native Alejandro must navigate the "impossible maze" of starting life as an immigrant in New York City without being legally allowed to make money.
The trailer for the surreal comedy, out August 4th, shows the hurdles Alejandro must climb in realizing his dream as a toy designer. The imaginative film mixes magical realism elements with straightforward comedy, and was both written and directed by Torres, who in addition to writing for SNL is best known for creating HBO's beloved series Los Espookys.
Swinton plays Alejandro's erratic boss, who holds his future in her hands as she has the power to sign his paychecks, help him make it in the treacherous NYC art world and also, most importantly, cosign his visa. RZA, Isabella Rossellini, Larry Owens, Catalina Saavedra and Greta Lee also make appearances. Problemista, which was also produced by Emma Stone, made its debut at SXSW, where it impressed audiences with its heartfelt humor.
Watch the first trailer for Problemista, below: