On His Centennial, Richard Avedon Remains the Definition of Iconic
Brooke Shields, Miuccia Prada, Raf Simons, and more reflect on the legendary late photographer in a new exhibition and book.
---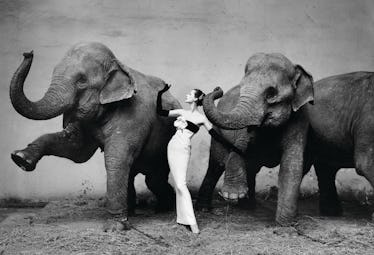 Richard Avedon, "Dovima with elephants." Evening dress by Dior, Cirque d'Hiver, Paris, August 1955. © The Richard Avedon Foundation, courtesy of Gagosian
Has anyone created as many iconic images as Richard Avedon? The late photographer took photo after photo that would leave an indelible mark on photographic history over the course of his 81-year lifetime, from the majestic Dovima with Elephants to his portraits of Marilyn Monroe looking both at her most glamorous and most exposed. His visual legacy is so outsized, in fact, that when the Gagosian gallery set about commemorating what would have been his 100th birthday by inviting some of the biggest names in fashion—in addition to high-profile collectors, scholars, and admirers in all manner of fields—to select their favorite Avedon image, they came up with more than 150. "Usually it's about the voice of one artist," Kara Vander Weg, who has worked with the Avedon Foundation through her role as a senior director at Gagosian for more than a decade says of the gallery's unprecedented scope of curators. Fittingly for a photographer whose practice was about truly seeing people, "this is about letting the voice of one artist be seen through many."
Avedon's centennial isn't all that makes "Avedon 100," opening at Gagosian's West 21st Street outpost on May 4, feel timely. The exhibition's accompanying 300-plus-page book (published by Gagosian and distributed by Rizzoli) features modern-day creative after creative citing his impact on their work today. Karlie Kloss, for one, has taken inspiration from his 1957 Bazaar editorial of a Cardin-clad Carmen hopping off a Parisian curb for the length of her modeling career, while the photography duo Inez and Vinoodh credit Avedon with their style of portraiture. The photographer Ethan James Green even attributes the advent of the fashion editorial narrative to Avedon, who set a new standard for magazines when he enlisted Suzy Parker and Mike Nichols to channel Elizabeth Taylor and Richard Burton on a paparazzi-filled night out in 1962. That was decades and decades ago—and yet, in a society now flooded more than ever with images, many of which carry Avedon's influence, Vander Weg isn't surprised by the degree to which Avedon's photos feel "fresh."
Avedon was 21 when he began revolutionizing fashion photography by encouraging models—who were thought of as stiff mannequins when he started out in magazines during the mid-1940s—to, as Cindy Crawford once put it, "come alive." But he was far from limited to the industry in the decades that followed, whether photographing his father's final 18 months fighting cancer, one of the last living Americans born into slavery and his family, or the Civil Rights-era protests of the Student Nonviolent Coordinating Committee (SNCC). In 1960, he took portraits of the two killers from Truman Capote's In Cold Blood, prompting contributor and photographer Jack Pierson to ask, "Is it unseemly to attach the quality of 'tenderness' to pictures of two murderers?"
What's remarkable is that, no matter the subject matter, the images are all distinctly Avedon. As Larry Gagosian writes in the book's foreword, "every Avedon photograph is not only a portrait of a person but a portrait of an idea—the glamour of Paris or Warhol's Factory, the poetic freedom of Allen Ginsberg and his milieu, the contentious factions surrounding the war in Vietnam." And somewhat surprisingly, to those in the industry, the non-fashion works often have the most appeal. Miuccia Prada, for example, chose Avedon's portrait of a 13-year-old rattlesnake skinner, while Raf Simons and Edward Enninful highlighted Avedon's late '70s series on drifters in the American West. Here, Simons and more of the book's contributors—including Elton John, Chloë Sevigny, Anderson Cooper, and Brooke Shields—reflect on Avedon's legacy in their own words.
Brooke Shields
I remember taking this photo and the feeling of excitement about how architectural Richard Avedon's eye was. It was never just about the clothes, much to the chagrin of fashion editor Polly Mellen. It was about posture, an eyebrow raised, a specific attitude that was inspired by every look and created especially for every image. I loved the cinematic freedom that was born each time those large metal doors in his studio were shut and it was just me, Dick, his assistant, and my favorite songs blasting from the speakers. I was nine years old when I first worked with Dick, but it wasn't until my early teens that I started regularly coming to his studio after class, which was the most incredible after-school program there ever was. Shooting with Avedon felt like shooting mini movies with every outfit. It was always a nonjudgmental exchange of creativity and an exploration of the unexpected. He was the ultimate maestro.
Chloë Sevigny
For people coming of age in the 1990s in the heyday of grunge, Avedon represented something we all aspired to: an ability to transform what might be considered "raw" beauty into something desirable, something magical—a mythology of the everyday. The young men and women captured in In the American West, the strength in their gazes, transfixed me. Who were these arresting people, what were their lives like, what did they think of this city boy coming to take pictures of them? Movies give us countless stories of opportunity and lack of opportunity in these so-called expansive places. Holly and Kit in Badlands, the archetypal young lovers living on the fringes. Am I allowed to project that stuff onto this couple from In the American West? Am I supposed to? A lot could be written about his cowboy hat and cigarettes, her little chain, the flip to her hair, but it's the intensity of their physical connection that I notice. Their bodies say they're partners, a team. It's romance, and we all wanted that. Especially when I was twenty years old, looking at these images and falling in love for the first time.
Elton John
Picking my favorite Richard Avedon image was an exciting exercise for me: all I had to do was walk the halls of my homes, where so many of his photographs are hung with reverence. As an avid photography collector, I pride myself on my holdings of Avedon and the joy they bring me. I collect most of his series, from fashion to civil rights to magazine editorials, and I find them captivating, with their depth of emotions and stylized grandeur. However, there is one series of work that I constantly return to: Dick's portraits of his father, Jacob Israel Avedon, from 1969 to 1973, which were photographed in Sarasota, Florida. In this intensely personal series, we see the photographer put his own elderly father before the lens and never hold back. Jacob's hair begins to gray, his wardrobe shifts from suits to hospital gowns, and his weight slowly drops, as the fragility of mortality begins to take over. Yet, within this natural process of aging, the viewer feels nothing but love from the man behind the lens for the man in front of it.
Karlie Kloss
Throughout my career as a model, I have repeatedly found inspiration in the way in which Avedon captured his subjects' movement so vividly. In this image of Carmen, their photographer-muse relationship is palpable; she is modeling from the tips of her toes to the top of her head, and the light and composition give life to her playful emotion. This is the kind of evocative image that I aspire to create when working with photographers.
Hilton Als
When I was growing up, I admired Truman Capote's unabashed queerness. He put it out there at a time when folks thought it best to keep it in. Back then, being out could get you arrested. It took a certain amount of toughness to be who you were if you were gay and unashamed in the 1940s, also a belief in what you could project as an out gay man: an effete stylishness, and a belief in fantasy. Dick captures that in this lovely, misty, and mystical portrait of a unique American artist.
Stan Stokowski and Anderson Cooper
Over the course of their enduring friendship—which spanned more than fifty years—Dick photographed our mother countless times. Each image is more magnificent than the last, echoing the natural synergy they shared on either side of the camera. In May 1956, when he suggested spending a day photographing at the apartment she and Sidney Lumet shared, he did so in the spirit of genuine affection. Dick had introduced them in 1955, setting their marriage in motion, and she later described the suite of prints he gave them as intended "to capture the life Sidney and I had together, and the ambience of our happiness." Contrasting earlier studio sessions that spotlighted her in glamorous couture, this more spontaneous shot reveals his intimate understanding of her private realm. Along with the grandeur of the setting, there's a psychological charge in her gaze that infuses the image with mystery. Our mother's homes were a continuously evolving form of self-expression. Some things always featured prominently, among them Dick's iconic 1953 portrait, which rests on the side table at the left. The library ladder speaks to her lifelong love of reading and writing; the silk kimono, to her romanticism; and John Carroll's full-length portrait painting, to her family's legacy. Somewhat akin to Dick's signature studio backdrops, the glossy white paint she chose to cover the parquet floor is a reminder of how she broke from traditions, embraced the new, and had the confidence and strength to march to her own beat.
We are fascinated by Richard Avedon's image of Ronald Fischer, the beekeeper, from the In the American West series, and its depiction of humanity and nature within the constraints of formal portraiture. The bees bring with them a looming possibility of danger, and Avedon controls that fear by capturing the brief yet calculated moment within the carefully constructed portrait. While looking into Fischer's eyes, the viewer can feel the underlying vibration emanating from the bees on his skin. The moment that Avedon captures between himself, Ronald Fischer, and the bees is masterfully arresting and emotive.
Raf Simons
I am drawn to the work of Richard Avedon because of both its artistic language and its emotional resonance and complexity. There is no hierarchy in his photography: it demonstrates his complete fascination with society, with humanity, with reflecting the world as he saw it.
Tonne Goodman
In 1971, Ike and Tina Turner performed at Carnegie Hall, which was recorded live. I was there. I invited my mother to join me and we had a wonderful, exuberant, and thrilling time. This photograph of Tina Turner captures the visual truth that every one of Richard Avedon's photographs does, with no exceptions. He saw right through to the truth of anyone and everyone. Tina's ferocity tells her truth.
Portraits and text excerpted from Avedon 100 published May 4, 2023 by Gagosian and distributed by Rizzoli. Copyright © 2023.