Cinematographer Rina Yang Juggles Euphoria, Indie Films, and Taylor Swift Videos With Ease
A conversation with the London-based director of photography who counts FKA Twigs and Dua Lipa as fans.
Photographs by Courtney Sofiah Yates
---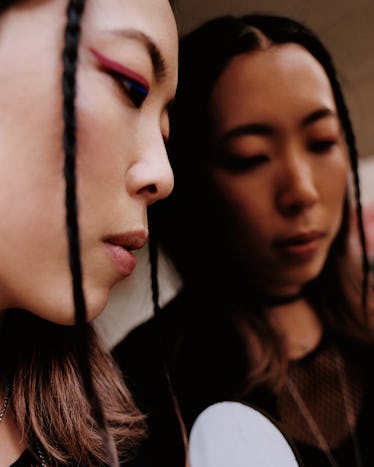 Rina Yang wears her own clothing.
For W's annual The Originals portfolio, we asked creatives—pioneers in the fields of art, design, fashion, comedy, activism, and more—to share their insights on staying true to themselves. See this year's full class of creatives here.
You've been a director of photography for music videos, for the likes of Taylor Swift, Björk, FKA Twigs, and Dua Lipa. You've also worked on television shows like Top Boy, a British drama, and Euphoria, a show known for its striking visuals—the episode you shot, which dives into the maternal relationships and home lives of some of the show's main characters, was one of season 2's standouts. What was that experience like?
The entire Euphoria crew had been working together for a few years: They did the first season, the Christmas special, the film Malcolm & Marie [which featured the show's star, Zendaya, and was shot in one location during L.A.'s lockdown]. It's always a bit nerve-racking dropping in as a guest DP on a well-established team, but they were so welcoming. Sam [Levinson, the show's creator] directed my episode, which was one of the most inspiring and satisfying experiences I've had, because he's a great DP himself. He's got such an eye for visuals, and a consideration for lighting and how the camera moves. No matter how talented your actors are, if you can't create the mood and capture the performance in the best way, the product is half as good.
Just before working on Euphoria, you wrapped Nanny, an independent film directed by Nikyatu Jusu that received a Grand Jury Prize at Sundance. What's it like jumping back and forth between a big-budget production and something smaller?
I'm used to it because I do a ton of commercials, and then I'll take breaks to do narrative work. There are fewer resources, and I know it'll be a lot harder, but it's also more rewarding and allows me to make work that lasts longer. Nikyatu is one of the most talented women I've met so far in my career.
You've worked with FKA Twigs on a few projects, including the music video for her song "Home With You." She seems like a true original.
She just doesn't miss. She's also really hard-working. She practices, and she continues to grow. Every time I see her, she either looks different or has gained a new skill. I can't imagine what she's going to do next.
You were born and raised in Japan, but at age 16 you already knew you wanted to move to London. Why is that?
I wanted to get out of Japan because it's really difficult to be different there. Also, my family is Korean, so we experienced all types of racism, bullying, and sexism. I had a friend who lived in London in high school who introduced me to a lot of new things. Everyone around me just kept telling me that I didn't fit into Japanese society, but she was like, "That's good. Just get out of there and do what you want." So I moved to London after high school, and it was the best decision I ever made.
Did you always know you wanted to pursue a creative career?
My mom was really into music, and she'd take us to jazz and classical ballet classes. She noticed I liked drawing and making comics, so she sent me to painting class. I would also take pictures and make home movies, so she knew I was creative. But in high school, I studied economics, like I was going to become an accountant or something.
As a cinematographer, you get to work incredibly closely with different directors. What are the qualities of a great one?
Taste is very important; so is talent and creative instinct. But you need to be able to communicate your grand plan to everyone—hundreds of people in all these different departments—in a way that makes sense.
What's your most original quality?
I'm laid-back, but I don't sit still. I like to get things done. I don't make a big deal out of anything.
Hair and Makeup by Wendy Rorong at Plutino Group.