Rooney Mara, Chrys Wong, and Sara Schloat, Founders of the New Sustainable Clothing Line Hiraeth, Talk Veganism and Fashion
The actress' new clothing brand, Hiraeth, is all about sustainability.
---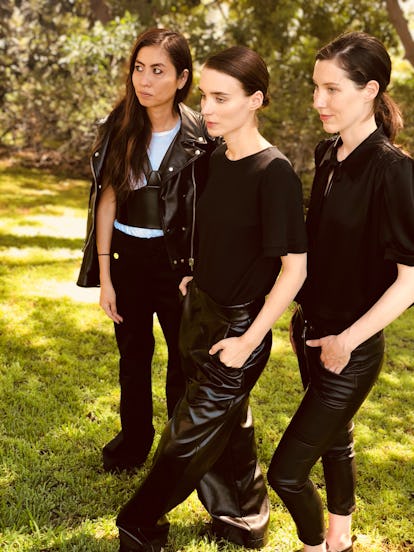 There are few actors as hesitant to talk about themselves as Rooney Mara. Over the years, the Girl with the Dragon Tattoo star has developed a reputation for being private, to her own admission. But, ask her about being vegan and she'll open right up.
Seven years ago, Mara fully committed to a vegan lifestyle and, three years ago, she went one step further: ridding her closet of any animal products. It was at that point that Mara realized there weren't enough quality replacements, which inspired her to start her own fashion line, the high-end, sustainable Hiraeth, with her childhood friend Sara Schloat and Chrys Wong. "In the beginning, when I first was like, 'I don't want to eat or hurt animals, so why am I wearing them?'" Mara recalled. "I stopped buying leather. I've never bought fur before. At a certain point I was like, 'I can't even wear the leather I have. I don't want it in my closet or on my body. It makes me feel uncomfortable.'"
Few celebrity lines, however, are as personal as Hiraeth. Mara, Schloat, and Wong designed the first collection—currently stocked exclusively by Barneys New York — for people who've been patiently waiting to fill their closet with high-end environmentally-friendly alternatives. "We really wanted to make pieces that would last forever in people's wardrobes, taking the opposite approach to trend-based consumerism," Schloat explained. "Our goal is to make something really beautiful, thoughtful, and classic that you can keep in your wardrobe for a long time."
The result is a nostalgic take on classics—nodding to the meaning of the word Hiraeth, which translates from Welsh to "a deep longing for home"—from romantic dresses to faux leather jackets, sculptural coats, and cotton-blend basics. "I really love the Ophelia dress," Mara said, listing her favorites. "I really love our motorcycle boots—that was the thing I was longing for the most. It's been a few years since I was able to wear motorcycle boots, so I really live in those. I love our t-shirts and leather trousers."
Much of it was inspired by Mara's real-life wardrobe—the vegan vintage pieces she's amassed over the years. "I went through a weird phase 10 years ago where I was constantly buying really old vintage pieces and a lot of those inspire me," she said. "I still do a ton of vintage shopping. I like to do second-hand shopping. There's many female artists we're inspired by. I think it's more a mood and sensibility, though, than any particular piece of vintage clothing or art."
Despite looking to the past for inspiration, Hiraeth is approaching sustainable fashion in a futuristic way that the majority of the industry has yet to grasp. In a basic sense, Hiraeth is bridging the connection between what we put into our bodies and what we put onto our bodies, all while creating the smallest environmental impact possible. "We're so disconnected from the process of how things are made or what things are made of," Mara said. "It's so normalized—so many different things we use in our lives have leather or wool, or other animal products, and people are so disconnected from what that means or what it took to get that item into their closet or car or anywhere."
With Hiraeth, that process is a lot more transparent. "Once you go into the textile world, you look for the smaller mills to begin with, because you an find out more information and transparency," Wong said. "We still love natural fiber the most. The alternative to leather, fur, and silk are Japanese textiles."
As for why it took so long for the fashion industry to begin embracing sustainability, as Tom Ford and Gucci's Alessandro Michele have recently done, Mara likens it to the food industry. Quite simply, real change takes time. "I don't know that the fashion world is behind the times, but they're a little behind the food world," Mara said. "I remember when I first went vegan seven years ago, there was one vegan cheese on the market. Now when you go to the grocery store there's like 50, and that's just in the span of seven years."
Mara is quick to give props to Stella McCartney, though, who has been leading sustainability by example. "In the fashion world, Stella is really the only person who is making vegan bags and shoes," she said. "Now a lot of people are not using fur, but Stella for the longest time has been the only option. I think that is going to change. I think people are moving in that direction and want more options for things that have a better impact on the planet."
It's a clear passion project for all three, who are all extremely hands-on in every step of the process. "I'm more involved than I expected to be," Mara said. "It's way more of an undertaking than I could have imagined, but it's a very collaborative effort. The three of us are involved in pretty much every decision. We work really closely together and it's been a really nice experience."
In the process, she's also started working with her peers—or, at least one so far: Stranger Things' Sadie Sink, who became the first person to wear Hiraeth on a red carpet this past March. "We really loved dressing Sadie," Mara said. "I know Sadie through my cousin who works with her, so I've known her for awhile." As for anyone else she hopes to dress or partner with, she responded, "I'd rather not say. It's like when someone asks me if there's a director I want to work with. I never answer that because it's so embarrassing because they see it and then what if they don't want to work with you?"