Tom Ford Reveals He Is Vegan, and Is Now Conflicted About Fur
"There's no way to answer this fur question without getting in trouble with somebody."
---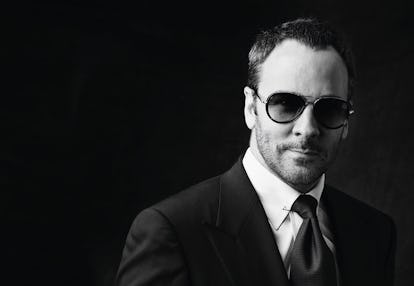 Tom Ford likes to talk; he's easily one of the best interviews in fashion. He's also, as it turns out, a vegan. Despite certain stereotypes about how much vegans like to talk about being vegan, Ford had not mentioned that fact about himself until recently, when he was asked about fashion's changing attitudes towards fur. A fur coat was once practically synonymous with high fashion and opulence (and Ford produced quite a few of them during his time at Gucci), but in recent years they've become increasingly controversial and flat out unpopular amongst certain groups.
Indeed, in October, Ford's former employer Gucci pledged to go fur free starting this year, with CEO Marco Bizzari quipping of fur, "It's a little bit outdated." Michael Kors quickly followed suit by announcing that he, too, would phase out fur.
Naturally, WWD was curious about how Ford felt about fur, and called him to ask.
"Oh my God! The fur question! There's no way to answer this fur question without getting in trouble with somebody," Ford said. The designer then recounted a story in which he was once approached by someone at a WWD event who reached into her purse and poured tomato juice all over him in protest of his use of fur. "It was one of the most violent, frightening things that has ever happened to me," he continued, adding that the incident made him pretty cautious about random people approaching him from then on out, but wasn't very effective about changing his mind about fur. Instead, it was his own dietary habits.
"I've been vegan for about the last year. When you look at how most of our meat, our animal products, are raised, from a health standpoint, I didn't feel that I should eat those things anymore," he told the paper. "The fur thing – of course, is a natural thing. [Going vegan] starts to make you question that."
While Ford isn't ready to proclaim his line completely fur-free, he says he's embraced faux fur. He also won't use fur from animals that are only raised for their fur link minks and sables, but will use "food byproducts" like leather and shearling. "I have been very conscious of using animal skins that are food byproducts," he said. "Because whether I'm consuming meat or not, other people are, so these are things that are collected."
That may not please the woman who once poured tomato juice on him, but it is a step forward. Though, Ford also has some concerns about faux fur too. He noted that the process to create faux furs can often be toxic, and that people tend to throw them away a lot sooner than they might a real fur. "I've been very honest, and it's probably going to get me in all sorts of trouble with everybody, but I don't know the answer," he concluded.
Related: Donald Trump: "I'm Not a Fan of Tom Ford, Never Have Been"
All Tom Ford's clothing and sunglasses by Tom Ford.

Photographer: Steven Klein
Versace mink and fox coat; OMO Norma Kamali nylon and Lycra spandex swimsuit. Agent Provocateur hosiery; Azzedine Alaïa shoes.

Photographer: Steven Klein
Nautica polyester spandex trunks.

Photographer: Steven Klein
Ralph Lauren Collection beaded viscose and silk jersey dress. Cynthia Wolff bracelet. Right: Oscar de la Renta for Alixandre Furs mink coat. Vintage corset; Agent Provocateur hosiery; Balenciaga shoes.

Photographer: Steven Klein
Rochas silk dress. Ralph Lauren Collection silk satin dress. David Webb bracelet.

Photographer: Steven Klein
Photographer: Steven Klein
Photographer: Steven Klein
Photographer: Steven Klein
Carolina Herrera lynx coat. Calvin Klein Collection cashmere and mink dress. Fogal hosiery; Prada shoes. Right: Narciso Rodriguez cashmere, wool and linen tweed corset; Hermès cotton and spandex jodhpurs, at Hermès. Linda Farrow Vintage sunglasses; Hermès boots.

Photographer: Steven Klein