Donald Trump: "I'm Not a Fan of Tom Ford, Never Have Been"
In an interview with Fox News, Donald Trump dumps on Tom Ford. He claims Melania isn't a fan of the designer, anyway.
---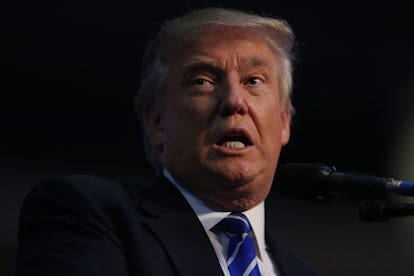 Photo by Joe Raedle/Getty Images
The fashion world has been buzzing about whether or not labels should dress incoming first lady Melania Trump. Designers like Tom Ford, Marc Jacobs and Sophie Theallet have publicly said they won't dress Mrs. Trump. Others, like Stefano Gabanna and Calvin Klein (the man, not the brand), have declared that they'd be proud to outfit the former model.
What's most surprising about the debate is that Donald Trump himself hadn't weighed in. The man who can't let a single SNL joke go without tweeting about how horrible the show is had kept quiet about the hubbub. Mrs. Trump, who is shaping up to be one of the quietest first ladies in modern memory, hasn't mentioned it either.
Well, this morning in an interview with Fox and Friends, Trump was served up a series of softball questions by interviewer Ainsley Earhardt. Turns out he doesn't mind that dozens of democratic officials are skipping his inauguration. He just hopes he gets their tickets back. He claims that so many of the musicians who have claimed to turn down the opportunity to perform weren't even invited in the first place. He also says he'll have some of the biggest celebrities in the world there.
Then Earhardt asks him about the couturier controversy.
"How about these designers how are saying they don't want to dress your wife?" asks Earhardt. "Did she even ask Tom Ford?"
"Never asked Tom Ford. Doesn't like Tom Ford. Doesn't like his designs," Trump said of his wife's taste. "Tom Ford is an example. 'I will not dress the first lady.' He was never asked to dress her."
"Steve Wynn just called me and he said he thought it was so terrible what Tom Ford said that he threw his clothing out of his Las Vegas hotel," he continued.
"I'm not a fan of Tom Ford. Never have been," concluded the president-elect.
The exchange begins at about the 3:05 mark below.
Earhardt quickly moves on to ask Trump about balls, and doesn't manage to stay on the subject to try and get an exclusive confirmation on who, exactly, will be dressing the future first lady.
For the record, Ford never claimed that he was asked to dress Mrs. Trump for the inauguration.
"I was asked to dress her quite a few years ago and I declined; she's not necessarily my image," he said on The View back in December.
"Even had Hillary won she shouldn't be wearing my clothes, they're too expensive," Ford continued. "They're not artificially expensive, it's how much it costs to make these things. I think the first lady has to relate to anybody."
There is also no evidence of Mrs. Trump ever hearing Ford. Even with Ford's personal objection she would be free to go to the boutique herself and pick something up. But perhaps the Trump-Ford feud goes back further.
According to lure, after a memorial service for photographer Helmut Newton in 2004, Ford tried to persuade Melania, then just Trump's girlfriend, to get Donald to do something about his hair.
"I like him the way he is," she replied.
Watch W's most popular videos: