15 Times Tom Ford Has Waxed Poetic About Sex
The fashion designer Tom Ford is not afraid to talk openly about sex, you're all just a bunch of prudes. Here, 15 times he's spoken candidly about everything from porn to Angelina Jolie's face.
---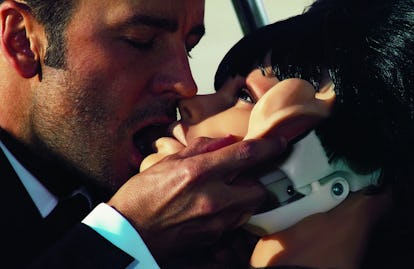 Tom Ford. Photo by Steven Klein, styled by Camilla Nickerson. W Magazine, November 2005.
Sex sells, and no one knows this better than the legendary fashion designer Tom Ford. In 2005, he told Bridget Foley, then at W: "When sex goes out of business, so do we."
Ford's designs have always heightened luxury's sex appeal. He served as creative director at Gucci from 1994 to 2004, during which time the former Gucci Group, now Kering, also acquired Saint Laurent. One of his more notably provocative moments at Gucci was when he shaved a 'G' into a model's pubic hair for a 2003 ad campaign.
After moving on to launch his own film production company, Fade to Black, Ford started his own namesake label in 2006, which continues to proliferate his suave signature and has attracted a loyal clientele including Julianne Moore and Jay Z. And despite his long career and roles as both a husband to Richard Buckley and father to their 4-year-old son, Ford has still got his mojo these days. In case anyone doubted that, he released a "Penis Pendant" necklace that cost $790 in 2014.
Ford's unapologetic show of sexuality, both with his clothing and in the media, has sometimes drawn criticism for objectifying women, among other complaints. His answer to that accusation, however, is that he's an "equal opportunity objectifier." So, take from that what you will, in addition to these 15 x-rated quotes, below.
On the benefits of men being penetrated: "I think it would help them understand women. It's such a vulnerable position to be in, and it's such a passive position to be in. And there's such an invasion, in a way, that even if it's consensual, it's just very personal. And I think there's a psyche that happens because of it that makes you understand and appreciate what women go through their whole life, because it's not just sexual, it's a complete setup of the way the world works, that one sex has the ability to literally—and is expected to and is wanted to—but also there's an invasion. And I think that that's something most men do not understand at all." — As told to GQ
On how nakedness is the great equalizer: "What I mean is that you can go to the gym and see a guy in the shower and think, Wow, great, I'd love to talk to him. Then he goes and sits down on a bench and puts on frightening shoes, a silver thumb ring and a bad suit. Being naked is the great equalizer; there are just less ways to screw up." — As told to W magazine
On what sex was like 100 years ago: "I still like looking at naked people, even if I don't quite look the way I used to without my clothes on. It's part of our nature, wanting sex; you eat tonight and you think you're full, but then tomorrow you're hungry again. Now there's all this cartoon sex because porn is so widespread—the girl going he he he he and the guy going uh uh uh uh—so boring. Imagine a hundred years ago, when you were just drawn to the person—imagine all the weird sex that happened! They didn't know what to do, they just did what they liked. Think of how perverted it must've been…" — As told to New York
On being attracted to women: "I lust after beautiful women. First of all, I love women. But I lust after beautiful women in the way that I lust after a beautiful piece of sculpture — this will probably get me in trouble — or a beautiful car. I believe everyone's on a sliding scale of sexuality. There are moments where I am sexually attracted to women. But it doesn't overpower my first impulse; my lust for them is the same as my lust for beauty in all things. It's not like I ever think, 'Oh, my god, I've got to spread her legs and f—k her.'" — As told to Interview
On sleeping with a man at least once: "There's one indulgence every man should try in his lifetime: If you're straight, sleep with a man at least once, and if you're gay, don't go through life without sleeping with a woman. Either way, you might be surprised at how natural it will feel if you can get past the mind-f—k of stereotypes. In the end, it's just another person that you're relating to in a physical way." — As told to Details
On women enjoying sex: "Why shouldn't women have sex for enjoyment? Why should showing off be a bad thing? Men have been very crude for a long time—I mean, you walk down the street and guys scream, 'Hey, baby!'" — As told to New York
On being naked at home: "Full frontal male nudity challenges us. It makes men nervous. It makes women nervous. Other times in history, male nudes have been regarded in a different way. The Olympics were originally held nude. The reporter I was explaining this to said, 'This would make a great story.' I explained how when I come home I actually take off all my clothes, and I wear no clothes until I leave. I eat naked. I do everything completely naked. He said, 'That would make a great interview.' I said, 'Fine, we have to do it nude.'" — As told to Interview
On doing an interview naked: "The interviewer was straight, and I made it a point to desexualize the interview even though I was sitting with my legs wide open, completely naked. At the end of the interview, I put on a dressing gown and he put on his clothes, and I sat next to him on the sofa and said, 'Was that sexual?' He said, 'Absolutely not.' And I said, 'That's because I didn't make it sexual. Sexuality is in the eyes, it's an expression, it's in a look.' Then, all of a sudden, I looked at him in a very different way, and it made him very nervous." — As told to Interview
On how porn used to be hairier: "There was a moment in time when if you were watching porn, or saw just any model or actor or man, there was hair—. Burt Reynolds, for example, stretched out naked totally covered in hair. Men had mustaches. Men had chest hair. In today's world, all the guys are shaved, although gay men are going back to hair. We're living also in a very plastic moment where everything is manufactured and pumped up." — As told to W magazine
On his own hair, down there: "My butt is naturally hairless, by the way." — As told to W magazine
On how porn peaked in the '70s: "Today we have a more perverse look at sexuality, but stylized and almost fake. If you watch a porn film today versus a porn film from the Seventies, there's something much sexier about the Seventies film because it's more natural. Today it's so stylized, sort of cartoonlike. But we're in a cartoonlike moment. I mean, think of Angelina Jolie's face." — As told to W magazine
On teenagers watching porn: "You can't worry about teenagers looking at people having sex online – they're going to. What I find fascinating is: you're watching YouPorn or RedTube and it's a world where everyone is having sex the same way. It starts with a kiss, then a blow job…" — As told to Esquire
On feeling like (or rather, not feeling like) a sexy dad: "I feel less sexy now that I'm a father – and actually there's a scientific reason for that. I read that men who are the primary caregivers of children have lower testosterone levels. It drops, according to some reports, because nature wants the man to stay with the children and not let them wander off… Now I don't know if my testosterone levels have dropped or not, I haven't had them tested, but I feel less sexy, definitely." — As told to Mr. Porter
On why his clothes are sexy: "I work in a way to try to enhance the body, and so you often see a lot of the body or the silhouette or outline, and that's what people equate with sex. But I'm very comfortable with sexuality. It's not anything that's ever freaked me out." — As told to Interview
On why you're all prudes: "I think sex is one of the nice things in life. I don't know why everybody makes a big deal about it. I find violence much more offensive than sex." — As told to GQ