Rosé's "On The Ground" Video Has Glam Fashion, Casual Record Breaking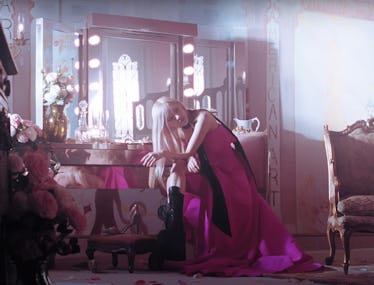 Screenshot courtesy of YG Entertainment
She's already conquered the world as part of Blackpink, and now Rosé's debut solo music video for "On The Ground" arrives like the thing featured in the very first shot: a meteorite. With production and co-writing credits from Amy Allen (who has worked with Halsey and Selena Gomez), Jon Bellion (whose previous credits include work with Miley Cyrus and Katy Perry), and K-pop veteran Teddy Park, the track has obvious worldwide appeal. Lyrically, it finds Rosé singing about reaching the heights of fame only to be brought back to earth after a breakup. Appropriately, the video features Rosé languishing alone in the backseats of cars, in bedrooms, and outside a movie theater. She's left the high-impact dance routines for her day job in the girl group and instead lets her fashion sense shine in the clip.
The singer first appears in a fuchsia Alex Perry gown paired with black combat boots and, later, a Saint Laurent leather jacket. Throughout the video, she also struts in a white feathered top and miniskirt, plays the cool girl in purple faux fur and a RE/DONE "Adopt A Koala" t-shirt, and eventually floats above it all while wearing a voluminous pink ruffled minidress from Haleia.
With Blackpink's massive fanbase behind her, the track, video, and the accompanying debut single album -R- are already well on their way to breaking records. Her record label YG claimed that earlier in the week -R- had received over 400,000 pre-orders, a record in Korea for a female solo artist. With over 23 million views on YouTube in less than 12 hours, it's also on track to shatter a record for most first-day views for a female solo K-pop artist as well. As of this writing, the song has already hit #1 on iTune's singles charts in America, and has done the same in countries including (but not limited to) France, Brazil, Canada, Mexico, Hong Kong, Hungary, and Bahrain.